Georgia Civil Rights Trail
In commemoration of the fiftieth anniversary of the beginning of the Civil Rights Movement in Georgia, the Georgia Historical Society embarked upon a new, statewide public education initiative that employs a unique and enduring educational and economic development tool – historical markers – while also leveraging existing technology and online resources to enhance the public's understanding of an era in which religion, education, politics, and free enterprise intersected to create a successful movement that ended Jim Crow and secured civil rights for African Americans, thus ensuring the rights of all Americans.
---
History of the Georgia Civil Rights Trail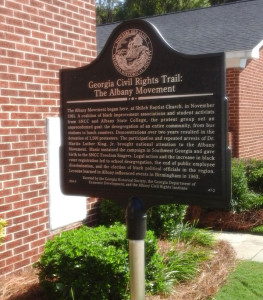 GHS's Georgia Civil Rights Trail (CRT) initiative focuses broadly on the economic, social, political and cultural history of the Civil Rights Movement. Specifically, roadside historical markers tell the story of the Movement in Georgia by guiding audiences to the sites where history happened, inviting them to stand on the ground where struggles and events took place, and providing a foundation upon which to build and cultivate a deeper understanding of the past and its relevance to the present. The CRT highlights significant twentieth-century events from communities around the state to illustrate the overarching themes of education, leadership, massive resistance and white backlash, public accommodations, and voting rights.
Historical markers share local stories and events while placing them within the larger context of the Movement's history. GHS launched the CRT in four key communities – Albany, Atlanta, Columbus, and Savannah – initially erecting four new historical markers on the following topics:
The Albany Movement, Albany
Atlanta Student Movement, Atlanta
Primus King's Challenge to the White Primary, Columbus
Savannah Sit-ins and Boycott, Savannah

These markers, in addition to over twenty existing GHS markers that explore these issues central to the twentieth-century struggle for civil and human rights, form the CRT. The Georgia Historical Marker program thrives on community partnerships throughout the state. GHS encourages community groups, municipal agencies, and others to consider the stories of the Civil Rights Movement in their own areas and invite the nomination of new topics in this series to be erected in collaboration with the Georgia Historical Society. Potential additional topics could include, but are not limited to, leaders of both races such as Ralph Abernathy, Ivan Allen, Ralph McGill, and W.W. Law; and stories of triumph such as the election of Andrew Young as U.S. Congressman and Maynard Jackson as the Mayor of Atlanta.
More information about the process for erecting new historical markers through the Georgia Historical Marker Program can be found here.
---
Telling Stories of the Movement Through Historical Markers
The following GHS historical markers recognize sites associated with the Civil Rights Movement in Georgia and form the foundation of the Georgia Civil Rights Trail. GHS encourages applications from community groups throughout Georgia interested in expanding the story of the Movement through the development of new historical markers. For more information on the marker application process, please click here.

To learn more about the Georgia Historical Marker Program and the Civil Rights Trail, please follow this link.
---
Historical Markers: Tools for Education and Economic Development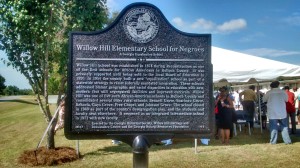 Historical Markers are excellent tools for teaching Georgia and American history in relevant ways to diverse audiences. By integrating online and mobile technology into its historical marker program initiatives, GHS ensures historical markers serve not only as enduring and accessible educational resources, but also as tools for driving economic development in the communities, many rural, where markers are located.
Each historical marker is included in GHS's award-winning online historical database which allows users to create custom-designed driving routes based on markers geared to their personal interest and travel plans. An accompanying mobile app (available for iOS and Google phones) shows markers within a designated distance of a user's current or anticipated Georgia location.
As a part of the Georgia Civil Rights Trail initiative, GHS encourages in-depth exploration of each marker by linking each marker in the project to an abundance of existing online educational resources related to the marker topic, including (as appropriate):
Existing GHS online exhibits and educator resources developed in association with public lectures, the Georgia History Festival, and teacher training initiatives;
Today in Georgia History, a collaborative program of the Georgia Historical Society and Georgia Public Broadcasting, which features nearly 50 segments with ancillary educator resources focused on people, places, and events relating to the Civil Rights Movement; and
Relevant New Georgia Encyclopedia articles.
---
Project Partners
The Georgia Civil Rights Trail is a project of the Georgia Historical Society with support from the Georgia Department of Economic Development and the National Center for Civil and Human Rights.
ABOUT GEORGIA HISTORICAL SOCIETY
Georgia Historical Society (GHS) is the premier independent statewide institution responsible for collecting, examining, and teaching Georgia history. GHS houses the oldest and most distinguished collection of materials related exclusively to Georgia history in the nation.
ABOUT THE CENTER FOR CIVIL AND HUMAN RIGHTS
The Center for Civil and Human Rights is an engaging cultural attraction that connects The American Civil Rights Movement to today's Global Human Rights Movements. The Center features immersive and thought-provoking exhibitions, including a continually rotating gallery of items from The Morehouse College Martin Luther King, Jr. Collection. The Center also provides event spaces and educational programs. For more information on The Center, please visit civilandhumanrights.org. Join the conversation on civil and human rights on Twitter @Ctr4CHR and Facebook.
ABOUT THE GEORGIA DEPARTMENT OF ECONOMIC DEVELOPMENT
The Georgia Department of Economic Development (GDEcD) is the state's sales and marketing arm, the lead agency for attracting new business investment, encouraging the expansion of existing industry and small businesses, locating new markets for Georgia products, attracting tourists to Georgia, and promoting the state as a destination for arts events and location for film, music and digital entertainment projects, as well as planning and mobilizing state resources for economic development. georgia.org
ABOUT THE GEORGIA HISTORICAL MARKER PROGRAM
The Georgia Historical Society (GHS) administers Georgia's historical marker program.  GHS has erected over 250 new historical markers across the state on a wide variety of subjects and recently assumed responsibility for the maintenance of more than 2,100 older markers. Online mapping tools allow users to design driving routes based on historical markers and a mobile app helps visitors locate and learn about markers nearby. Visit georgiahistory.com for more ways to use Georgia's historical markers and experience history where it happened.
---