Civil War Historical Marker Initiative
History of the Civil War 150 Project
As part of the national sesquicentennial commemorating the 150th anniversary of the Civil War, the Georgia Historical Society with support from the Georgia Department of Economic Development, the Georgia Department of Labor, Georgia Battlefields Association, the Georgia Department of Natural Resources, and other partners throughout the state collaborated on a project to use historical markers to promote tourism and create better access to Georgia's Civil War history.
GHS conducted a statewide survey of over 900 Civil War markers in 2008, noting their subjects, condition, and location. The survey revealed that fifteen percent of the markers were missing or damaged and further confirmed that over 90 percent of the existing markers dealt strictly with military topics, leaving vast segments of the Civil War story untold — with almost no markers describing the war's impact on civilians, politics, industry, the home front, African Americans, or women.
Following the survey, GHS recast and replaced seven missing markers detailing Sherman's March to the Sea in their original locations along the route of that march across Georgia, and erected eighteen new historical markers that interpret previously unrepresented historical elements of the war were commissioned and installed throughout the state.
Beyond the Sesquicentennial
Today, GHS has established the Civil War Historical Marker Initiative to expand on the initial work conducted during the Civil War 150. GHS has since worked to create a comprehensive list of historical markers erected by the Georgia Historical Society pertaining to the Civil War.
To allow visitors and residents to access and further utilize Georgia Historical Markers, GHS has designed an online database that allows visitors to search for historical markers and interact with these historical resources by creating a customizable driving trail. Database users may search for over 2000 historical markers by keyword, as well as sort by Georgia county or region, time period, or marker program (Georgia Historical Society or Georgia Histor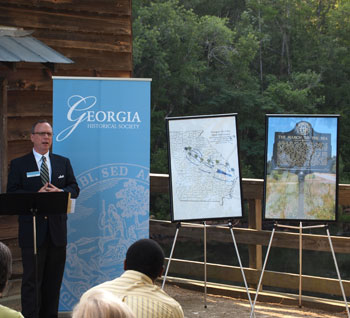 ical Commission/Georgia Department of Natural Resources). Using the search tools, users can create a point-to-point driving trail of historical markers by simply entering in a start and end point. Click here to access the Georgia Historical Marker Database.
The following historical markers, erected by the Georgia Historical Society, recognize sites associated with the Civil War in Georgia—its causes and immediate outcomes—and form the foundation of the Civil War Historical Marker Initiative. To further tell the story of Georgia's role in the Civil War, GHS encourages applications from community groups throughout Georgia interested in expanding the story through the development of new historical markers. For more information on the marker application process, click here.
---
New Historical Markers Across Georgia
Click on the following marker names for additional information.
Click here for more information on the Georgia Historical Marker Program.
---
---
Additional Resources