Dan T. Cathy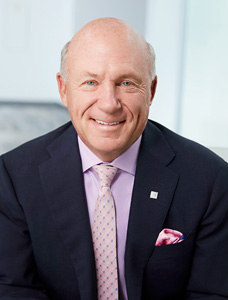 ---
Dan T. Cathy has been Chairman of Chick-fil-A, Inc., one of America's largest family-owned businesses, since 2013. The son of Chick-fil-A founder S. Truett Cathy, Dan's Chick-fil-A career began early. As a boy, he sang for customers and performed in radio ads for the chain's original "Dwarf House" restaurant in Hapeville, GA. Before becoming Chairman and CEO, Dan was President and Chief Operating Officer for 12 years. His previous roles include Senior Director of Operations, Vice President of Operations, and Executive Vice President.
Under his leadership, Chick-fil-A was named the top fast-food restaurant for customer service by Newsweek in 2019 and received multiple honors in QSR's 2019 Reader's Choice Awards, including "The Most Respected Quick-Service Brand" and "Best Brand for Overall Experience." In 2020, Glassdoor named Chick-fil-A one of the 100 best places to work.
Active in the Atlanta community, Dan is eager to serve his hometown by bringing people together and fostering new opportunities for those in challenging circumstances. He is actively working to improve Atlanta's Historic Westside communities in partnership with numerous business leaders, nonprofits, charities, and government agencies. A past chairman of The Carter Center's board of councilors, Dan serves on the boards of the Georgia Aquarium, the Metro Atlanta Chamber, the Atlanta Committee for Progress, Eagle Ranch, and Heritage Preparatory School.
A recipient of the Zig Ziglar Servant Leadership Award, Dan has been honored in Atlanta as the Herman J. Russell CEO of the Year by the Atlanta Business League, the Most People-Focused CEO at the inaugural Business Chronicle HR Excellence Awards, recipient of the Council for Quality Growth's Four Pillar Tribute, inducted in the Junior Achievement Atlanta Business Hall of Fame, recipient of the 2017 Film Critic Advocate Award from the African American Film Critics Association, and by the Urban League of Atlanta.
He holds a bachelor's degree in business from Georgia Southern University, is a graduate of Harvard Business School's Family Business Program, and holds honorary degrees from Pepperdine University, the University of West Georgia, the HBCA Entrepreneur Summit, Anderson College, and Carver Bible College.
The induction of Dan Cathy marks the first time in the history of the modern-day Georgia Trustees that a father and son have both received the honor. Dan's father, S. Truett Cathy, was inducted with Herman J. Russell as a Georgia Trustee in 2013.