James H. Blanchard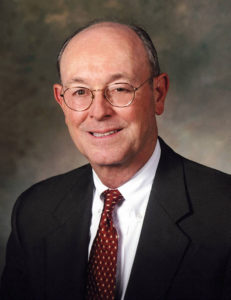 ---
Retired Chairman of the Board and CEO, Synovus
Chairman of the Board and Partner, Jordan-Blanchard Capital LLC
---
Experience
Blanchard began his service with Synovus Financial Corp. in June 1970 and served as CEO of Synovusfrom 1971 until being named Chairman of the Board in July 2005. Blanchard retired from Synovus in October 2006. In 2011, he partnered with the Jordan Company, a Columbusbased real estate and investment firm, to create Jordan-Blanchard Capital.
---
Education
B.B.A., The University of Georgia, 1963
LL.B., The University of Georgia, 1965
---
Affiliations
Chairman and CEO, Retired, Synovus Financial Corp. •Director, Synovus Financial Corp.
Chairman of the Executive Committee and Director, Total System Services, Inc.
Advisory Director, Columbus Bank and Trust Company
Director, AT&T Corporation
Director, W.C. Bradley Co.
Chairman, Global Teen Challenge Advisory Board
Director, Florida/Georgia Teen Challenge
Advisory Director, Teen Challenge, Columbus
Trustee, Columbus State University Foundation
Member, Lead Like Jesus National Advisory Board
Member, Georgia Historical Society Board of Curators
Member, Uptown Columbus Advisory Board
Past Trustee and Past Chairman, Georgia Research Alliance
Past Director and Past Chairman, Financial Services Roundtable
Past Director and Past Chairman, BITS (formerly Bankers Information Technology Secretariat)
Past Director, American Bankers Association
---
Honors
2010 FinTechLifetime Achievement Award, Technology Association of Georgia
2008-2009 Honorary Chairman, Financial Services Roundtable Scholarship Foundation
Designated First Presidential Fellow, Columbus State University, 2009
Charter Recipient, Georgia Ethics in Business Award, 2009. The award is now known as the Blanchard Award in Business Ethics
Southeastern University Doctorate of Humane Letters, 2009
The Eddie Sams Award, University of Georgia Golf Team, 2008
Rozier Dedwylder Leadership Award,Uptown Columbus Inc., 2008
Lifetime Achievement Award, Technology Association of Georgia, 2007
Woodruff Award, Columbus Chamber of Commerce, 2007
VanLandingham Award, Georgia Council on Economic Education, 2006
Martin Luther King, Jr. Unity Award, Delta Lambda Chapter of Alpha Phi Alpha Fraternity Inc. Educational Foundation, 2006
"Most Influential Georgians Hall of Fame," Georgia Trend magazine, 2006
"25 Most Influential People in Financial Services," US Banker magazine, 2005
Beta Gamma Sigma International Honoree Award, 2005
"Georgian of the Year," Georgia Trend magazine, 2003
"Most Respected CEO" in the state, Georgia Trend magazine, 1997
---
Summary
Jim served as Chairman and CEO of Synovus, a multi-billion dollar financial services company, based in Columbus, Georgia. Synovus bank divisions provide commercial and retail banking, investment and mortgage services to customers in Georgia, Alabama, South Carolina, Florida and Tennessee.
In 2006, he formed a partnership with Columbus State University's Cunningham Center for Leadership Development to create the Jim Blanchard Leadership Forum. The mission of the forum is to provide Columbus, and the region, the opportunity to interact with some of the most influential political, military, and business leaders in the world to create a synergy that raises both the local and national standard for leadership development. Previous speakers at the forum include former First Lady Laura Bush, former Secretary of State Condoleezza Rice, former U.S. Senators Sam Nunn and Zell Miller, former Speaker of the House Newt Gingrich, author Ken Blanchard, author John Maxwell, former Secretary of State Colin Powell, General David Petraeus and former U.S. Attorney General Griffin Bell. "One of the greatest gifts I can offer to our country is an investment in Leadership. We want to provide a forum where leaders can be exposed to the best and brightest minds in the world today," said Blanchard.
Blanchard currently serves as Chairman of the Board and Partner of Jordan-Blanchard Capital, a firm that focuses on investing in small businesses in the manufacturing, distribution and business services sectors. In 2009 and 2010, he donated hispapers to the Georgia Historical Society, making them available for scholarly research by future generations.