Kessel D. Stelling, Jr.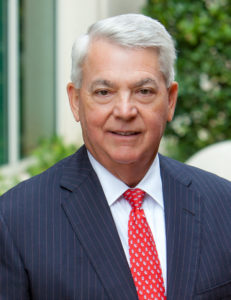 ---
Kessel Stelling was named President and Chief Executive Officer of Synovus in October 2010 and elected Chairman of the Board in January 2012. Under his leadership, the company has been named one of American Banker's most reputable banks for four consecutive years, including 2017, when it ranked number one.
Stelling was appointed to the Board of Regents of the University System of Georgia in February 2008 and was Chairman of the Board in 2016. He serves on the Board of Directors of the REACH Georgia Foundation, which oversees awareness, engagement, fundraising, and investment for the State of Georgia's first needs-based mentorship and college scholarship program.
Stelling was elected to the Georgia Power Board of Directors in 2016. He is a longtime member of the Board of Directors of the Georgia Chamber of Commerce and is serving as its Chairman in 2018. He also serves as Treasurer and executive committee member of the Financial Services Roundtable, the leading advocacy organization for America's financial services industry.
Stelling earned a degree in banking and finance from the University of Georgia and is a graduate of the School of Banking of the South at Louisiana State University. He was awarded an Honorary Doctorate in Business Administration from the University of South Carolina in 2013.
Stelling is married to Carol and has two sons and four grandchildren. He resides in Atlanta.