Larry Gellerstedt III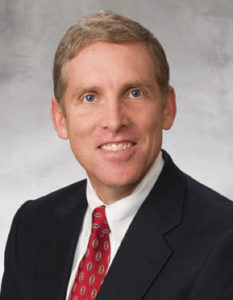 ---
Larry Gellerstedt is a partner at Sweetwater Holdings. He is the past Chairman of the Board and CEO of Cousins Properties. From June 2009 to July 2017, Mr. Gellerstedt served as the Company's President and CEO, and prior to this period, he held the position of President and COO. Mr. Gellerstedt joined Cousins in 2005 following the acquisition of his firm, The Gellerstedt Group.
During his tenure at Cousins, Mr. Gellerstedt has steered the Company to focus on acquiring, developing and operating urban trophy office towers in high-growth Sunbelt markets while maintaining a conservative balance sheet. In 2016, he led the largest deal in Cousins history – the merger with Parkway Properties, Inc. and subsequent spin-off of the combined companies' Houston-based assets into a separately traded REIT. From 2009 to 2016, Mr. Gellerstedt led Cousins from an equity market cap of $665 million to over $3.4 billion.
Mr. Gellerstedt began his career at Beers Construction Company (Beers) in 1978 as an estimator and project manager. Eight years later, he became Chairman and Chief Executive Officer of Beers and led the company to annual revenues in excess of $1.2 billion and the company's eventual sale to Skanska AB.
He also has held positions as President and Chief Operating Officer of The Integral Group, recognized nationally for its visionary urban mixed-use development, and as Chairman and Chief Executive Officer of American Business Products, a NYSE-listed manufacturer of packaging and printed office products.
Spanning a career of more than 35 years, Mr. Gellerstedt has received numerous accolades including Ernst and Young's Entrepreneur of the Year, Atlanta Business League's CEO of the Year, and Georgia Trend magazine's Georgia's 100 Most Influential People.
Community Involvement
Mr. Gellerstedt currently serves as Director, Georgia Power Company and Advisory Council of SunTrust Bank, Atlanta Division; Chairman, Georgia Research Alliance and Jesse Parker Williams Foundation; Vice Chair, Atlanta Committee for Progress and Trustee, Robert W. Woodruff Foundation. He served as Past Chair, Children's Healthcare of Atlanta, The Commerce Club, Fernbank Museum of Natural History, Metro Atlanta Chamber, Metro Atlanta YMCA, Midtown Alliance, and Woodruff Arts Center.
Education
University of North Carolina at Chapel Hill, College of Arts and Sciences