Mark V. Smith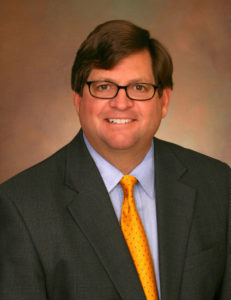 ---
Mark Smith was born and raised in Savannah, GA. He attended public and private school, graduating from Savannah Christian in 1974. He attended the Georgia Institute of Technology graduating with a Bachelor of Science degree in Industrial Management, and a minor in Political Science. While at Georgia Tech, Mr. Smith interned in the office of Senator Herman Talmadge in Washington and worked full time in Senator Sam Nunn's 1st re-election campaign.
Upon graduation in 1979, Mr. Smith went to work in the Real Estate Department of Days Inn of America. His responsibilities included all facets of the development and financing of hotel projects throughout the U.S. In 1986, Mr. Smith left Days Inn and became an independent hotelowner and broker. He has been involved in the sale of over $300 million worth of hotel properties since that time. In 1992, Mr. Thomas Prince, Mr. Robert Bush, and Mark Smith acquired the Mulberry Inn of Savannah out of bankruptcy. As a result, Savannah Investors was created with Mark as managing partner. In 1997, Savannah Investors opened the Hampton Inn Historic District on Bay Street, three blocks from the Mulberry Inn. In 1998 they opened the 126 room redeveloped Holiday Inn Historic District in downtown Charleston, South Carolina at the corner of Meeting and Calhoun Streets. In December 2007, Savannah Investors opened a 143 room Holiday Inn Express across Abercorn Street from the Hampton Inn. In 2010 the Charleston hotel was sold to the Noble Hotel Group of Atlanta. In 2012 the Mulberry was sold to the Kimpton Hotel Company of San Francisco. The Hampton and Holiday Inn Express consistently lead Chatham County hotels in financial performance.
Mr. Smith is also Chief Executive Officer for South Atlantic Utilities, which operates water and wastewater systems throughout Southeast Georgia. He is also an active member of the Coastal Georgia Regional Water Planning Council. In 2013 Mr. Smith was elected Chairman of the Board of S Bank. He served as chairman until its sale to State Bank and Trust in 2016. He also is a founding board member of Sweetener Solutions, a specialty precision blender of high intensity sweeteners.
Mr. Smith is very involved in community affairs and is presently Chairman of the Georgia International Maritime Trade and Convention Center, and a Curator of the Georgia Historical Society. Past service includes Chairman of the Savannah Area Convention and Visitor's Bureau, Trustee of the Coastal Heritage Society, member of the Historic Savannah Foundation Board, a trustee of the Savannah Country Day School, and member of the Board of the Georgia Department of Natural Resources. He has served 15 of the last 19 years on Council of the Lutheran Church of the Ascension. He is currently President of Council.
Mark is married to the former Kimberly Williams of Owensboro, KY. Their twins Delle and Gowan were born in 2001.