William T. Moore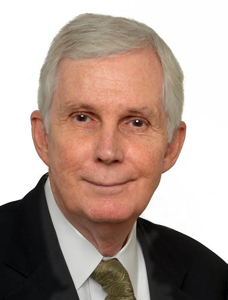 ---
William T. (Ted) Moore was born in Sebring, Florida, on August 3, 1948, and grew up in Brunswick, Georgia, and Norfolk, Virginia.
Ted entered the United States Army in 1967 and was admitted to Officer Candidate School that year, graduating as a Second Lieutenant in January 1968. Following a tour in the 82nd Airborne Division, he was assigned to the 9th Infantry Division in Vietnam, and later served as an advisor with the South Vietnamese Army. He was decorated for valor, meritorious service, and for wounds received. When he returned to the US, he pursued college coursework at various Army posts, and was then sent to complete his undergraduate degree at the University of Southern Mississippi in business administration while continuing on active duty. Following departure from active duty in 1978, Ted continued in the Army Reserve (inactive) and completed an MBA degree at Old Dominion University and then a Ph.D. with a major in Finance and a minor in Statistics at Virginia Polytechnic Institute (VPI) in 1982.
Following graduation from VPI, Ted served on the faculty at Indiana University until 1986 when he was appointed to a faculty position at USC. During his academic career, Ted taught courses in financial management, financial derivatives, financial economics and econometrics. He served as executive editor of the Journal of Financial Research for a six-year term. He was appointed Vice Provost at USC in 2006, then Executive Vice President for Academic Affairs & Provost in 2009. He became Vice President for Finance & Chief Financial Officer in 2010 and retired from USC as Distinguished Professor Emeritus in 2011. While teaching at USC, Ted received the annual Outstanding Professor Award in the International MBA Program for fifteen consecutive years. He was also awarded the University's highest award for teaching excellence and the highest University award for research.
Following retirement, Ted and his wife Linda moved to Savannah where they now reside. Ted has served on the Ossabaw Island Foundation Board of Trustees, the Telfair Museums Board of Trustees, the Bethesda Academy Board of Governors, and the Georgia Historical Society Endowment Board.
They are both supporters of the Georgia Historical Society, having committed funds to support an endowed position, the Dr. William T. Moore Distinguished Editor of the Georgia Historical Quarterly, which was officially created in 2017.