A.D. "Pete" Correll: 2017 Georgia Trustee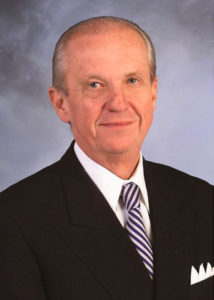 A.D. "Pete" Correll died on May 25, 2021, at the age of 80. He was a native of Brunswick, Georgia, and served as CEO of Georgia-Pacific for 13 years.
He held a bachelor's degree in Business Administration from the University of Georgia and a master's degree in Pulp and Paper Technology and Chemical Engineering from the University of Maine, as well as an honorary Doctor of Humane Letters from the University of Georgia and an honorary Doctor of Public Service from the College of Coastal Georgia.
During his tenure as a member and later as Vice Chairman of the Georgia Historical Society's Board of Curators, Pete Correll played a key role in the institution's growth. Along with his wife Ada Lee, he helped to establish the endowment for the Vincent J. Dooley Distinguished Fellows Program and contributed to the renovation and expansion of the GHS Research Center. Among his many notable acts of service, Mr. Correll helped revive a restoration project for Ebenezer Baptist Church, where Dr. Martin Luther King, Jr. served as pastor. He had also served as Chairman of the Board of Grady Memorial Hospital Corporation and on the boards of the Georgia Aquarium and the Mother Nature Network, among many others.
Mr. Correll leaves a legacy of generosity, leadership, and service.
.
© Georgia Historical Society, 2017 All Rights Reserved
You are free to share this video link for non-commercial purposes. No part of this video or any of its contents may be reproduced, copied, modified or adapted, without the prior written consent of the Georgia Historical Society.