David P. Abney: 2021 Georgia Trustee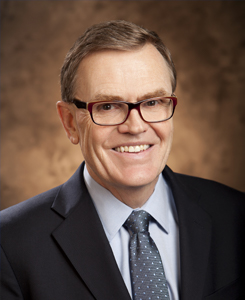 David Abney is the former Executive Chairman of the UPS Board of Directors. He served as CEO of UPS from 2014 until May 2020 and was appointed Chairman of the Board in 2016. Prior to his role as Chairman and CEO, Abney served as the company's Chief Operating Officer, overseeing logistics, sustainability, engineering, and all facets of UPS's global transportation network. Abney began his UPS career in 1974 as a part-time UPS package loader in a small facility in Greenwood, Mississippi, while attending Delta State University.
Abney serves as a Trustee of the UPS Foundation and the Annie E. Casey Foundation and is a member of the World Affairs Council of Atlanta as well as the Business Roundtable. In 2019, Abney received the prestigious Horatio Alger Award for perseverance, integrity and a commitment to excellence. During that same year he was elected and served as Chairman of the Metro Atlanta Chamber. He also serves on the boards of Macy's, Inc., Northrop Grumman Corporation, and Catalyst, an organization working to accelerate and advance women into senior leadership and board positions.
A native of Greenwood, Mississippi, Abney earned a bachelor's degree in business administration from Delta State University, where he and his wife, Sherry, sponsor the school's annual symposium on international business.