Edward H. Bastian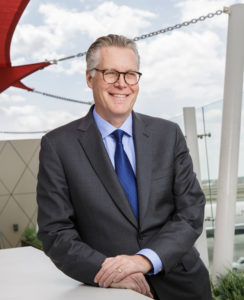 As CEO of Delta Air Lines, Ed Bastian's responsibility is to champion the company's employee-driven, customer-focused culture and inspire the spirit of innovation that is the foundation of Delta's success.
An 18-year Delta veteran, Ed was part of the team that led the airline from bankruptcy. Named CEO in May 2016, Ed puts Delta's shared values at the core of every decision.
When asked to sum up his job, Ed's response is: "Taking care of our people." The answer reflects his leadership philosophy – if you take care of your people, they take care of your customers, whose business and loyalty allows you to reward your investors.
Ed grew up in Poughkeepsie, N.Y., and graduated from St. Bonaventure University with a Bachelor's Degree in Business Administration.
Ed joined Delta in 1998. He became Delta's Chief Financial Officer in 2004, and was appointed to serve as Delta's President in 2007.
---
© Georgia Historical Society, 2018 All Rights Reserved
You are free to share this video link for non-commercial purposes. No part of this video or any of its contents may be reproduced, copied, modified or adapted, without the prior written consent of the Georgia Historical Society.