Henry "Hank" Aaron: 2010 Georgia Trustee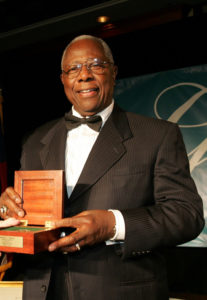 Henry L. Aaron died January 22, 2021, at the age of 86. He was recognized as one of the true greats in Major League Baseball history. Aaron's major league playing career spanned 23 years with the Milwaukee and Atlanta Braves and the Milwaukee Brewers. His 755 home runs stood as the major league record for 33 years. He was named an all-star twenty-five times, was named the National League's Most Valuable Player and World Series MVP with the Milwaukee Braves in 1957, won the National League's Gold Glove Award three times, and received  the Lou Gehrig Memorial Award in 1970. When he retired after the 1976 season, his career statistics included records for home runs, RBIs, total bases, and extra base hits. His contributions on and off the field continued the struggled against segregation begun by Jackie Robinson in 1947.
Mr. Aaron, a native of Mobile, Alabama, was inducted into the Baseball Hall of Fame in 1982 as one of the highest ranking nominees in its history. In 1999 he was named to the Major League Baseball All-Century Team and the editors of The Sporting News ranked Aaron fifth on their list of "Greatest Baseball Players."
Mr. Aaron served as corporate vice president of community relations for Turner Broadcasting, as a member of the TBS Board of Directors, vice president of business development for the Airport Network, and senior vice president of the Atlanta Braves. In 1991 he published his autobiography, I Had a Hammer: The Hank Aaron Story, which became a best-seller. He owned a BMW dealership in Atlanta and several restaurant franchises.
Mr. Aaron also served on the boards of Retail Ventures, Inc., Medallion Financial Corporation, and the Atlanta Falcons. He was a member of the Board of Governors for Boys and Girls Clubs of America and a member of the Board of Councilors of the Carter Center. Along with his wife Billye, he founded the Hank Aaron Chasing the Dream Foundation. Aaron received numerous civic awards, including the Medal of Freedom in 2002, awarded by President Bush, and the Presidential Citizens Medal, awarded by President Clinton.