Herman J. Russell: 2013 Georgia Trustee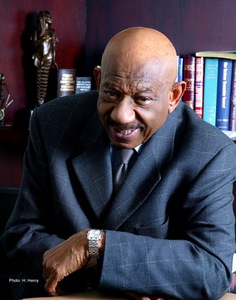 From his purchase of a small parcel of land at age 16 in 1946 to an entrepreneurial legacy starting in construction; Herman J. Russell is a business entrepreneur, civic leader and philanthropist focused on his 50th anniversary motto of "strengthening America's foundation".
A native of Atlanta, Herman J. Russell was an accomplished tradesman by the age of 12 having learned the plastering business from his father, Rogers Russell. He built a duplex on the parcel of land he purchased for $125 at age 16 and used his savings to help pay his tuition at Tuskegee University. Returning to Atlanta after college, he worked alongside his father taking over the company in 1952. Today, the H. J. Russell & Company is a diversified organization that has expanded into the areas of construction, construction management, real estate development and property management. In addition, Mr. Russell's business interests have also expanded to include Concessions International, LLC with food and beverage units in seven major airports and a partnership in the Paschal's restaurant on Northside Drive in Atlanta, Georgia, which is a cornerstone in his Castelberry Hill development project intended to revitalize the southwest edge of downtown Atlanta.
Since his beginning during the turbulent years of the early civil rights movement, Herman J. Russell has built one of the greatest success stories in America and is a role model for African-American entrepreneurship. The H. J. Russell & Company is ranked as one of the largest minority Industrial/Service companies in the United States. He has left a lasting impression on the communities in which he has worked with some of the nation's most celebrated skylines bearing his imprint. The most significant evidence of his corporate portfolio can be seen in his hometown of Atlanta and includes work with major Fortune 500 companies such as Georgia Pacific, Delta Airlines and The Coca-Cola Company as well as Turner Field and the Georgia World Congress Center. In addition, the Russell legacy is permanently etched into the city's landscape as a partner in building the Atlanta City Hall Complex, the Georgia DOME, the Carter Presidential Center and Phillips Sports Arena. His namesake company also currently manages over 10,000 apartment units and condominiums. His real estate development interests span cities across the United States and focuses on the revitalization of local municipalities into strong mixed-income communities..
A quiet, but influential civic leader, Russell worked very closely with Rev. Martin Luther King, Jr. in the 1960's. He became the first black member, and later president, of the Atlanta Chamber of Commerce. In addition, he has formerly served on the Boards of leading national corporations and organizations such as the US Chamber of Commerce, Wachovia Bank, Citizens Trust Bank, Georgia Power Company, Georgia Ports Authority, National Service Industries, and Central Atlanta Progress. He has served on the Trustee Board of Tuskegee University and the Georgia State University Advisory Board.
Mr. Russell is also a philanthropist who generously gives back to his community. He strongly believes that the youth of today need strong positive role models and mentors. To that end, he founded the Herman J. Russell Foundation, Inc., which is focused on stimulating the self-sufficiency of youth and the communities in which they live.
Over the course of his career, Herman J. Russell has received many awards and honors, including: the Dow Jones Entrepreneurial Excellence Award; The Atlanta Business Hall of Fame Award; Georgia State University Hall of Fame; Horatio Alger Award; both the National and Georgia Black MBA Association Inc.'s Entrepreneur of the Year Awards; and the 2001 Entrepreneur of the Year Lifetime Achievement Award by Ernst & Young. Mr. Russell is the recipient of honorary degrees from Morehouse College, Georgia State University, Morris Brown College and an honorary doctorate from Tuskegee University.
Now "retired", Mr. Russell continues to focus on revitalizing Castleberry Hill and Southwest Atlanta including the legendary, Paschals Restaurant and Castleberry Inn and Suites.
Mr. Russell and his late wife of over 40 years, Otelia Hackney Russell, are the parents of two sons, H. Jerome Russell and Michael, and one daughter, Donata Russell Major who are executives in the Russell companies. Mr. Russell is now married to Sylvia Russell, adding two stepsons, Eric Anderson and Kevin Anderson to the family. The Russells live in Atlanta, Georgia.