James H. Blanchard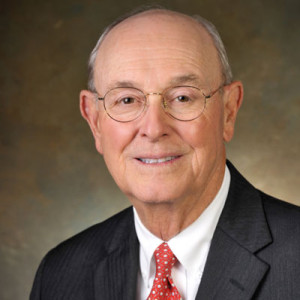 Blanchard began his service with Synovus Financial Corp. in June 1970 and served as CEO and Chairman of the Board before retiring in October 2006. In 2011, he partnered with the Jordan Company to create Jordan-Blanchard Capital.
In 2006, he formed a partnership with Columbus State University's Cunningham Center for Leadership Development to create the Jim Blanchard Leadership Forum. The mission of the forum is to provide Columbus and the region the opportunity to interact with some of the most influential political, military, and business leaders in the world, creating a synergy that raises both the local and national standard for leadership development. Previous speakers at the forum include President George W. Bush, former First Lady Laura Bush, former Secretary of State Condoleezza Rice, former Secretary of Defense Robert Gates, former U.S. Senators Sam Nunn and Zell Miller, former Speaker of the House Newt Gingrich, author Ken Blanchard, author John Maxwell, former Secretary of State Colin Powell, and former U.S. Attorney General Griffin Bell.
"One of the greatest gifts I can offer to our country is an investment in leadership. We want to provide a forum where leaders can be exposed to the best and brightest minds in the world today," said Blanchard.
His numerous board affiliations include serving on the Board of Directors of TSYS, W.C. Bradley, Co., Chick-fil-A, Georgia Historical Society Board, and as Chairman of the Global Teen Challenge Advisory Board. Blanchard was recently honored with the Alumni Merit Award by the University of Georgia, and received the Impact Award from the New Horizons Community Services Board and the Sue and Bill Turner Servant Leadership Award from the Pastoral Institute.
Blanchard currently serves as Chairman, Board of Advisors, Jordan-Blanchard Capital, LLC, a firm that focuses on investing in small businesses in the manufacturing, distribution, and business services sectors.
© Georgia Historical Society, 2016 All Rights Reserved
You are free to share this video link for non-commercial purposes. No part of this video or any of its contents may be reproduced, copied, modified or adapted, without the prior written consent of the Georgia Historical Society.