Shirley Franklin: 2022 Georgia Trustee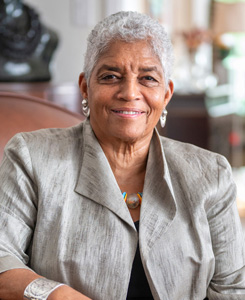 Shirley Franklin was elected and served two terms as Mayor of Atlanta from 2002 to 2009. She was the first African-American woman to serve as Mayor of a major southern city, and under her leadership Atlanta experienced unprecedented growth.
During her eight years as Mayor, Shirley championed strict ethics legislation and implemented sweeping government operational reforms. She led the effort for the Atlanta BeltLine project and invested over $6 billion in improvements to Hartsfield-Jackson Atlanta International Airport, Atlanta city parks, affordable housing, and water infrastructure projects. An advocate with a deep passion and understanding for the importance of preserving history, Shirley led the effort to acquire the personal papers of Dr. Martin Luther King, Jr. for Morehouse College.
Shirley has served on numerous boards throughout her professional career, including Delta Air Lines, Mueller Water Products, and Purpose Built Communities. Currently, she chairs the Board of Directors of the National Center for Civil and Human Rights and is a member of the boards of the American Institute of Architects, the CDC Foundation, the Volcker Alliance, and Purpose Built Schools Atlanta.
Shirley has taught at Spelman College and was the Barbara Jordan Chair in Ethics at the Lyndon Baines Johnson School of Public Affairs at the University of Texas Austin. Before becoming Mayor, Shirley served in the administrations of Atlanta Mayors Maynard Jackson and Ambassador Andrew Young. A leader in government and business, she is a frequent speaker on leadership, public policy, and community engagement.
She has received numerous awards and honors, including the 2005 John F. Kennedy Profile in Courage Award from the John F. Kennedy Presidential Library and Museum, which honored her for her courageous leadership in restoring fiscal stability and ethical government to Atlanta.
A native of Philadelphia, Pennsylvania, Shirley earned her Bachelor of Arts Degree in sociology from Howard University and a Master's Degree in sociology from the University of Pennsylvania.
---