Vincent J. Dooley: 2011 Georgia Trustee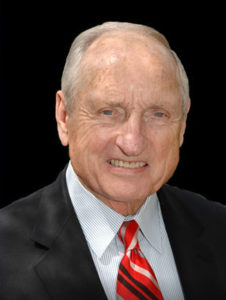 For over 45 years, Vince Dooley has had an enduring impact on the University of Georgia, the Southeastern Conference, and collegiate athletics across the country. He served as head football coach at the University of Georgia from 1963 to 1988 and as UGA Director of Athletics from 1979 to 2004 and has been recognized by many national organizations for having shaped the path of college athletics.
Dooley was born in 1932 Mobile, Alabama into an athletic family. After graduating from McGill High, Dooley accepted a football scholarship to Auburn University where he was an all-star football and basketball player and earned his Bachelor's Degree in Business Management and a Master's in History. After serving in the Marines, he worked as an assistant coach at Auburn and was named head coach of the Georgia Bulldogs in 1963 at the age of 31.
Dooley's 25 years as head football coach earned him the distinction as the most successful coach in Georgia history. He guided the Bulldogs to a career record of 201-77-10, becoming only the ninth coach in NCAA Division I history to win over 200 games. The Bulldogs won one national championship (1980) and six SEC Championships under his direction. He took his teams to 20 Bowl games and coached a Heisman Trophy winner (Herschel Walker, 1982), a Maxwell Award Winner (Walker, 1982), an Outland Award Winner (Bill Stanfill, 1968), 40 First Team All-Americans and 10 Academic All-Americans.
He was named NCAA National Coach of the Year by every major poll in 1980 and by Chevrolet-WTBS in 1982. Under his watch as athletic director, Georgia teams won 23 national championships, including an unprecedented four during the 1998-99 year (women's swimming, gymnastics, men's tennis, men's golf) and was also been a standard-bearer for academic excellence. His contributions to coaching and athletics administration are significantly defined by his place as the only person ever to hold the presidency of both the American Football Coaches Association and the National Association of Collegiate Directors of Athletics.
His national stature has been reinforced many times over the past decade. In 2004, Dooley was the recipient of the James J. Corbett Memorial Award presented by the National Association of Collegiate Directors of Athletics as well as the John L. Toner Award presented by the National Football Foundation and College Hall of Fame. In 2006, Dooley and his wife, Barbara, were chosen as recipients of the Wooden Award presented by the World Sports Humanitarian Hall of Fame. He also received the 2007 Homer Rice Award presented by the Division 1-A Athletic Directors Association.
His contributions to the UGA were recognized in 2008 with the dedication of the Vince Dooley Athletic Complex on Nov. 29, 2008.  A special statue and garden commemorate his accomplishments along with the naming of all the south campus athletic facilities in his honor.
He has been the recipient of most of the nation's highest honors including his recent recognition as the winner of the 2010 Bear Bryant Lifetime Achievement Award, which recognizes excellence in coaching on and off the field during a career.
Coach Dooley's community service and charity work is extensive and includes work with the Heart Fund, Multiple Sclerosis, Juvenile Diabetes, Boy Scouts and the homeless; he is currently serving on the Advisory Board of the Salvation Army and chaired a successful million dollar fund raising campaign for its new facilities in Athens. He has served 28 years as the long-standing chairman of the Georgia Easter Seals Society and in 1987 was named National Volunteer of the Year for his service. He was also instrumental in the UGA campus' designation as an arboretum and was presented with the Georgia Urban Forest Council's 2001 Individual Achievement Award given for significant accomplishments in promoting urban forestry in Georgia.
Coach Dooley lives in Athens with his wife, the former Barbara Meshad of Birmingham. They have four children and eleven grandchildren. He still maintains his academic and continuing education interests by auditing classes at the University of Georgia in such disciplines as history, political science, art history, and horticulture.