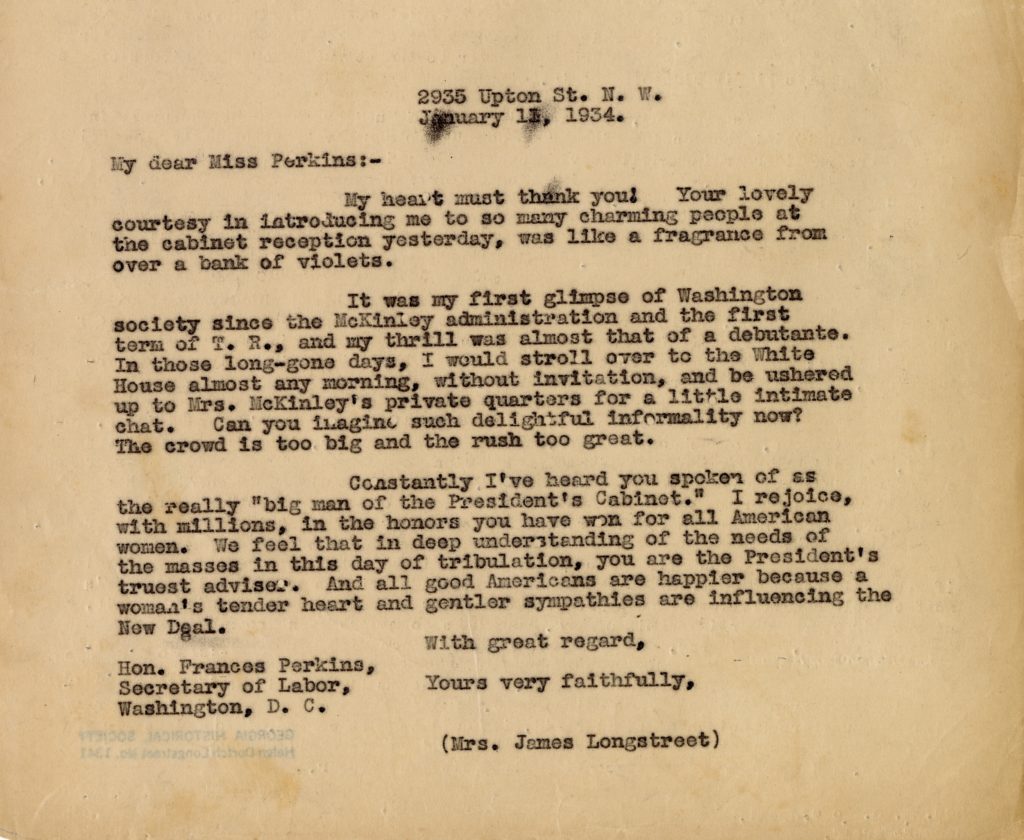 Inspired by the theme presented by the National Women's History Alliance for National Women's History Month (NWHM) 2019, "Visionary Women: Champions of Peace and Nonviolence," and in partnership with the League of Women Voters of Coastal Georgia, this month's editions of Collection Highlights explore the role of Georgia women "who have led efforts to end war, violence, and injustice and pioneered the use of nonviolence to change society."
In this 1934 letter written by Helen Dortch Longstreet to U.S. Secretary of Labor Frances Perkins, Longstreet encourages Perkins in the latter's trailblazing work as the first woman to serve as a member of a presidential Cabinet in the United States. President Franklin D. Roosevelt appointed Perkins to her cabinet position, and she served for twelve years. Longstreet, who mentions her familiarity and experience with earlier presidents, reassures Perkins in her role. By 1934 Longstreet herself had served in multiple government positions both at the state and federal levels.
The Honorable Frances Perkins was passionate about helping the less fortunate, specifically working to improve labor conditions. Prior to her appointment as Secretary of Labor she worked in Philadelphia and New York City, where she held positions that enabled her to help immigrant and working-class women. After witnessing the horrific events of the Triangle Shirtwaist Factory fire in 1911 she committed to reform the provisions and regulations related to employment in factories in New York. Perkins served as the Executive Secretary of the New York City Consumers League, Executive Secretary of New York City's Committee on Safety, and New York State Industrial Commissioner under two governors, including Franklin Delano Roosevelt. When he became president, he appointed her to his Cabinet as Secretary of Labor, where she heavily influenced the New Deal programs that tackled unemployment and standards for labor in the 1930s. She also advocated for marginalized German Jewish refugees who sought immigration to the United States prior to World War II.
Helen Dortch Longstreet held many different positions and championed many causes throughout her lifetime. The first woman to hold office in the Georgia state government, she became the Assistant State Librarian, a traditionally male role, in 1894 and advocated for the "Dortch Bill," which allowed women to become State Librarian. After the death of her husband, General James Longstreet, she was appointed in 1904 as the first female postmaster in Gainesville, Georgia. As an editor for political magazines and newspapers, she was an advocate for women's suffrage and Civil Rights for African Americans. She founded one of Georgia's first conservation efforts through the Tallulah Falls Conservation Association after Georgia Power and Railroad Company did not heed her protests against building a dam at Tallulah Gorge. Longstreet actively advocated for women's employment in state and federal positions, and even worked as a riveter during World War II at the Bell Bomber Plant in Marietta at the age of 80.
Both women used their platforms to help marginalized groups. Their progressive work affected the environment, African Americans, women, children, and immigrants.
Helen Dortch Longstreet papers
Helen Dortch Longstreet, Georgia Women of Achievement
Helen Dortch Longstreet, New Georgia Encyclopedia
Frances Perkins, FDR Presidential Library
Frances Perkins, United States Holocaust Memorial Museum