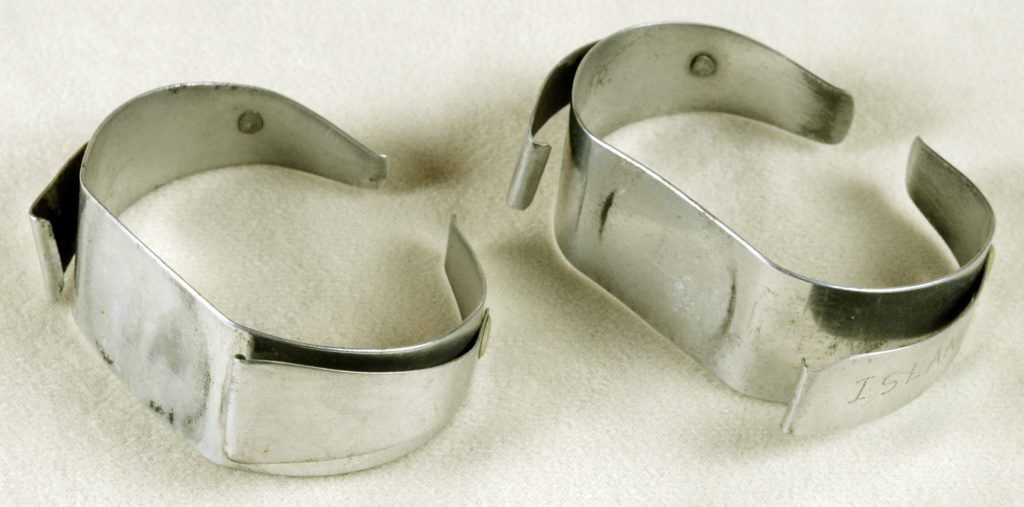 This week GHS is commemorating the 75th anniversary of the Second Battle of Guam on July 21, 1944, the American effort to recapture the island of Guam, captured by the Japanese in 1941. The Battle of Guam was part of the Marianas Islands campaign—a turning point in the war in the Pacific—in which U.S. forces landed on Saipan, Guam and Tinian. After heavy fighting, Saipan was secured in July and Guam and Tinian in August 1944. Guam was the first U.S. territory liberated from the Japanese. The U.S. constructed airfields on Saipan and Tinian from which B-29s flew strategic bombing missions against the Japanese mainland until the end of the war, including the nuclear attacks on Hiroshima and Nagasaki.
Using materials from the GHS Research Center we will explore Georgia's involvement in the Pacific Theater in World War II. To learn more, read the post below.
These two straps or "cuffs" were made out of salvaged aluminum from the Japanese plane wreckage, pictured. The plane crashed into the water during the U.S. invasion of the Marshall Islands (November 1943-February 1944) during World War II. PFC Frederick W. Mingledorff, USMC, had the aluminum piece made into the cuffs with riveted side pieces formed into lug ends to hold a watch. One cuff is engraved with "Marshall Islands" on the outside and "F. W. Mingldorff Jr., Hinesville, Ga." On the inside. The second cuff was not engraved.