Episode 28: Researching the Civil Rights Movement, Main Collection
Sarah's Research Journal
First Entry: Main Collection
I have a great start on my journey researching the Civil Rights Movement. After focusing my topic on the Savannah Protest Movement and finding the perfect book, I learned so much about the city's unique role in Georgia and African-American history.
My Summary of the Savannah Protest Movement
Although earlier leaders such as Ralph Mark Gilbert had worked for many years to secure the rights of African Americans in the city, the Savannah Protest Movement began in earnest on March 16, 1960, with a series of coordinated sit-ins at downtown lunch counters. Specifically, it was the arrest that day of three local students: Carolyn Quilloin, Ernest Robinson, and Joan Tyson for refusing to leave the whites-only lunch counter at Levy's Department Store that sparked a movement that would eventually sweep across the entire city, influencing Savannah socially, economically, and politically. As I continued to read about Savannah protests, I wanted to know what made this beautiful city stand out among various local civil rights protests in Georgia.

A Great Resource from the GHS Main Collection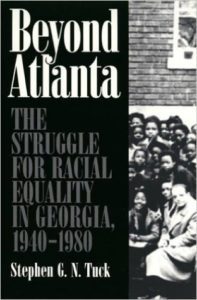 Stephen Tuck's Beyond Atlanta: The Struggle for Racial Equality in Georgia, 1940-1980 discusses how Savannah protests were different from other movements in both the state and across the South. Unlike demonstrations in Albany, Georgia, where marches, pickets, and sit-ins were ultimately dismissed by white leaders in the community, the Savannah Protest Movement was much more successful. Due to an economic boycott that lasted from March 1960 to October 1961, Savannah became the first city in Georgia to desegregate lunch counters. In fact, all public and private facilities integrated by October 1, 1963, a full eight months before the 1964 Civil Rights Act. Black Savannahians also gained political power through the ballot box. Dedicated voter registration drives resulted in large numbers of African Americans turning out at the polls to cast their ballots for the election of city officials concerned with racial equality. Importantly, success was achieved in Savannah without outside leadership or significant outside help, proving that the Savannah Protest Movement was an inherently local action from beginning to end.
Proper Citations
After reading several selections from this book, I knew I wanted to use it when I am ready to write my research paper. So before leaving the archive, I properly cited the book and made note of page numbers that I will reference. Here is an example citation:
Tuck, Stephen G.N. Beyond Atlanta: The Struggle for Racial Equality in Georgia, 1940-1980. Athens: University of Georgia Press, 2001.
Lingering Questions:
Now that I have gained a basic understanding of the Savannah Protest Movement, I want to learn more details about its sit-ins, boycotts, leaders, and participants. Who were influential people throughout the boycott and sit-ins? How did Savannah's white population react to these demonstrations?