Episode 29: Researching the Civil Rights Movement, Vertical Files
Sarah's Research Journal
Second Entry: Vertical Files
In need of more sources for research on the Savannah Protest Movement, I asked the staff at the Georgia Historical Society Research Center for help, and they pointed me to their vertical files. A vertical file is a collection of articles (as pamphlets and clippings) that is maintained (as in a library) to answer brief questions or to provide points of information not easily located. Before I began to look through the folders, I knew I wanted to focus on information about the boycott.
Background Information in the Vertical Files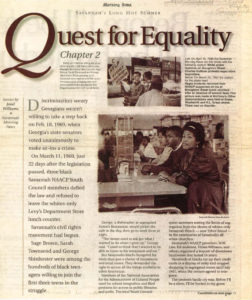 While I was searching through the material, I found a newspaper article published in 2001 that included photographs of the three students, Carolyn Quillion, Ernest Robinson, and Joan Tyson, who sat-in at the Levy Department Store, and a timeline of events from throughout the Savannah movement. From this timeline, I learned that many black Savannahians filled lawsuits in the U.S. District Court, arguing that segregation violated the fourteenth amendment and demanding the city integrate its public facilities. The Chatham County Citizens Council, a white segregationist group, also took action by writing to Georgia Governor Ernest Vandiver in January 1961, requesting he use State Patrol officers to uphold segregation laws in Savannah. Governor Vandiver never sent officers to Savannah, and the city began making an effort to desegregate.
The Savannah Public Library was one of the first facilities to open its doors to all races, and within the following month, several downtown stores agreed to serve African Americans—but only if the boycott of Broughton Street ended. Once again, whites put up a fight against integration and threatened to start a boycott of their own if businesses integrated. As a result, many stores stopped allowing blacks to shop on their premises.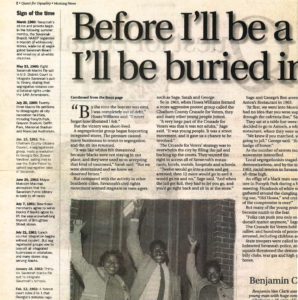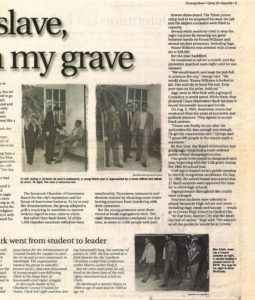 The information I found in the vertical files depicts the white population's reaction to integration and will help me write a history of the Savannah Protest Movement that illustrates both white and black action. I know that I want to use the timeline in my research paper, so I cited it before I left the archive.
Proper Citation
"Quest for Equality: Chapter 2." Savannah Morning News (Savannah, GA), Feb. 4, 2001 .
Lingering Questions
I still want more details about the people who participated in Savannah's civil rights demonstrations. Did advocacy groups like the NAACP Youth Council involve themselves with the movement? Did the city assemble a committee to discuss the integration of public facilities?