Sarah's Research Journal
Third Entry: Microfilm
Today, I chose to examine primary sources, or material that was created during the time period I am studying. I decided to read newspaper articles written in the 1960s from the Savannah Morning News that discussed sit-ins, arrests, and protests during the Savannah Protest Movement. I also had my eyes open for information regarding particular groups or committees that were a part of the movement.
I learned the best way to view newspaper articles from decades past is to use a microfilm machine. After figuring out how to load the reels, fast forward, rewind, and print, the process went by more smoothly and I found a lot of great information for my research.
What I Learned from Newspaper Articles on Microfilm
I concentrated my newspaper research around significant dates during the Savannah Protest Movement. I discovered several articles written in March 1960 and the summers of 1961 and 1963, detailing some of the movement's most successful and interesting events.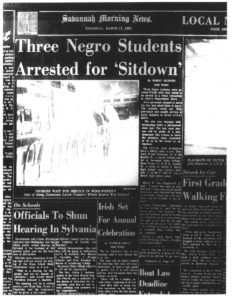 Most importantly, I found that the three students, Carolyn Quillion, Ernest Robinson, and Joan Tyson, who were arrested at the Levy Department store on March 16, 1960, were led by the NAACP Youth Council and its president, W.W. Law, and vice president, Hosea Williams. I also noticed that after these initial arrests, more African Americans began protesting inequality and public segregation, and many of them were arrested. They were typically charged with trespassing, a violation of a new state law that gave the owner or employee of a business the right to refuse service to a customer and request they leave the property. The NAACP helped pay the bail bonds of those arrested during these sit-ins. The NAACP Youth Council was concerned not only with integrating public facilities such as lunch counters and department stores, but they also wanted higher numbers of African-American voters and the desegregation of schools. When a bi-racial committee consisting of black and white Savannah leaders was established in 1963, the city began making more sincere efforts to integrate.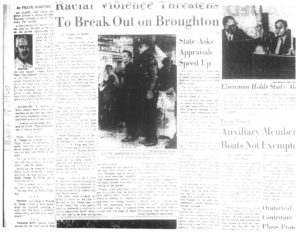 Although protests during Savannah's civil rights movement were usually peaceful, the Savannah Morning News reported a particular instance when violence nearly erupted between blacks and whites. According to a newspaper article published on March 18, 1960, a crowd of roughly one hundred fifty African Americans marched toward East Broad Street in protest of segregation. An even larger gathering of two hundred whites followed them. Both groups exchanged insults, and police officers were called to calm the situation and disperse the people.
Proper Newspaper Citation:
Murphy, Harry. "Racial Violence Threatens To Break Out on Broughton." Savannah Morning News(Savannah, GA), March 18, 1960.
Lingering Questions 
My research journey is far from over! Some questions I want to consider in the future are: What were some difficulties African Americans faced when public facilities desegregated? Did public facilities immediately integrate following the 1964 Civil Rights Act?