Chapter 3: European Explorations
Click on the images to view a larger version. To download the image, click on the image to view the larger version then right click to save the image to your computer.
Title : Spanish map of the coasts of South Carolina and Georgia
Author: Arredondo, Antonio de.
Call number: 1361-MP 401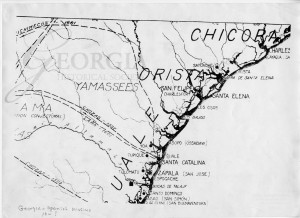 ---
Title : The Spanish settlements within the present limits of the United States: 1513-1561
Author: Lowery, Woodbury
Location: Georgia Historical Society Rare Book Collection
Call Number: E123.L78
---
Title: The Spanish missions of Georgia/John Tate Lanning; with illustrations by Willis Physioc
Author: Lanning, John Tat, 1902-1976
Location: Georgia Historical Society Rare Book Collection
Call Number: F289.L35 1935x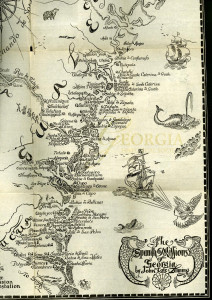 ---
Additional GHS Resources on European Exploration
Encounter and Exchange: Early Georgia
Today in Georgia History: September 29, 1526 Lucas Vasquez de Ayllon