Women's Suffrage at 100: The 19th Amendment and Georgia History
For the 2020 Georgia History Festival and in commemoration of 100th anniversary of the ratification of the 19th Amendment, GHS explored the legacy of women's suffrage in Georgia and the United States through public programs, new classroom resources, in-school programming, and training opportunities for teachers.
Sponsored by

---
Primary Source Exploration for Elementary Classrooms
The "Finding My Voice" educational resources are inquiry-based, primary source activities suitable for elementary students as young as 2nd grade. The resources are classroom-ready and available online for free. The resources include a teacher guide, primary source sets, and elementary-friendly strategies to help teach the context necessary for students to explore the process of developing points of view, exercising civic rights, and examining how the women's suffrage movement inspired later movements like the Civil Rights Movement. Utilizing sources related to women's suffrage, students are challenged to complete engaging activities that will also allow them to explore the ways in which the woman's suffrage movement impacts their lives today.
Sponsored by

---
Download the resources at the following links:
---
"Winning the Vote: Women's Suffrage in Georgia" Project Box
The "Winning the Vote: Women's Suffrage in Georgia" inquiry project box features engaging activities for primary source exploration highlighting sources from the New South era and the women's suffrage movement. The inquiry kit includes a detailed teacher's guide and high-resolution, color reproductions of primary source material aligned with the 8th grade Georgia Standards of Excellence. Project boxes will be made available upon request to a limited number of classrooms statewide thanks to a grant from the Wells Fargo Foundation. All materials available in the project box can be downloaded for classroom use at the following links.
---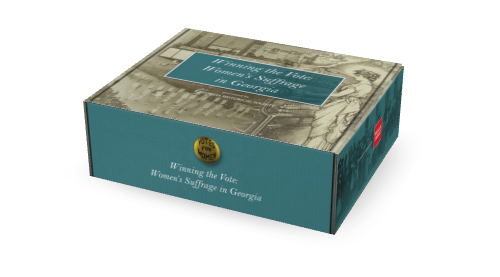 Project Box Materials:
Staging the Question: Understanding the 19th Amendment
SQT1 – The New South Era: Redefining Women's Roles
SQT2 – Exploring Varying Opinions and Points of View on Suffrage