Delta Air Lines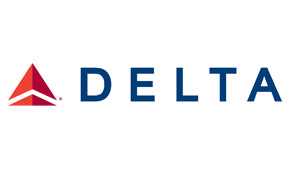 The Georgia Historical Society is proud to have Delta Air Lines as the Flagship Sponsor of the Business History Initiative. In 1924, Delta Air Lines began as a crop-dusting company in the Mississippi River delta and has since grown into one of Georgia's most iconic corporate residents. Delta's story exemplifies how, with vision, innovation, and strategic investment, a business can soar.
Read about Delta's involvement in the Georgia Historical Society's Business History Initiative in the Atlanta Business Chronicle.
A history of Delta Air Lines and the Business History Initiative are featured in Georgia Trend.
Read the Business History Initiative profile and case study on Delta Airlines.
---
A Georgia historical marker for Delta Air Lines was dedicated on June 17, 2014. The marker reads:
Delta Air Lines
Delta Air Lines began in 1924 as a crop dusting company, based first in Macon, Georgia, and then Monroe, Louisiana. C.E. Woolman led a group of investors in buying the company in 1928 and renamed it Delta Air Service. Passenger service began between Dallas, Texas, and Jackson, Mississippi, on June 17, 1929. A year later, Delta expanded passenger service east to Atlanta and west to Fort Worth.  In 1941, Delta moved its corporate headquarters to Atlanta. Under Woolman and successive leaders, the company grew through a series of mergers that expanded routes across the U.S. and around the world. As one of Georgia's most famous corporate residents, Delta played a crucial role in Atlanta's rise as an international city and commercial hub.
Erected by the Georgia Historical Society and Delta Air Lines, Inc.
---