Georgia World Congress Center Authority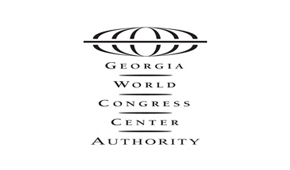 GHS welcomes the Georgia World Congress Center Authority (GWCCA) as an honoree of the Georgia Business History Initiative. As the organization responsible for overseeing three of the primary sites associated with the 1996 Olympic Games held in Atlanta, GWCCA is focusing attention through this Initiative on the impact of the Games on the economic development of Atlanta and the state of Georgia over the past twenty years.
Read the Business History Initiative profile and case study on the 1996 Summer Olympics.
Read the Business History Initiative profile on the Georgia Dome.
---
A Georgia historical marker for the 1996 Summer Olympics was dedicated on November 1, 2016. The marker reads:
1996 Summer Olympics
Games of the XXVI Olympiad
From July 19 through August 4, 1996, Atlanta hosted the Centennial Summer Olympic Games, the largest event in Atlanta's history. In 1990, the International Olympic Committee chose Atlanta over five other cities. Atlanta attorney Billy Payne and Mayor Andrew Young were the prime architects of the winning bid. Preparations had an estimated economic impact of at least $5.14 billion. Civic leaders built new sports venues, created park space, improved sidewalks and streets, and altered housing patterns. During the Olympics more than 2 million visitors came to Atlanta, and an estimated 3.5 billion people around the world watched on television. For the first time, all nations invited sent athletes, more than 10,000 competitors from 197 nations. The 1996 Olympics promoted Atlanta's image as an international city, positioning it to play an important role in global commerce.
Erected by the Georgia Historical Society and the Georgia World Congress Center Authority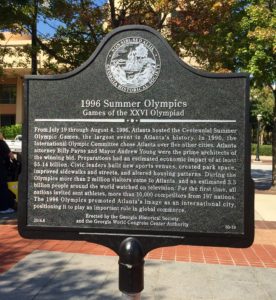 ---
A Georgia historical marker for the Georgia Dome was dedicated on Thursday, September 20, 2018. The marker reads:
Georgia Dome
Completed in three years, the $214 million, 71,228-seat Georgia Dome opened on September 6, 1992 as the world's largest domed stadium, serving as the home of the NFL's Atlanta Falcons for twenty-five seasons. The stadium hosted some of the world's most prestigious sporting and entertainment events, welcoming more than 37 million guests and generating an economic impact of $7 billion dollars. More than 1,400 events took place here, including two Super Bowls (1994, 2000), Olympic events (1996), NCAA Men's Final Four (2002, 2007, 2013), NCAA Women's Final Four (2003), twenty-three SEC college football championships, the annual Chick-fil-A Bowl, and two seasons as home court for the NBA's Atlanta Hawks (1997-99). In 2012, the Georgia World Congress Center Authority and the Falcons agreed to build Mercedes-Benz Stadium, which opened in August 2017. The Dome was demolished in November 2017.
Erected by the Georgia Historical Society and the Georgia World Congress Center Authority