Metro Atlanta Chamber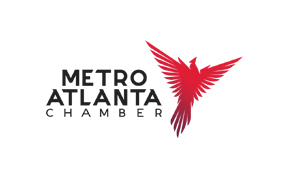 GHS is pleased to include Metro Atlanta Chamber as a Business History Initiative honoree. A Georgia historical marker for Metro Atlanta Chamber will be dedicated on May 19, 2022.
Read the Business History Initiative case study on the Metro Atlanta Chamber.
---
The marker reads:
Metro Atlanta Chamber
The Atlanta Chamber of Commerce was established in 1859 as an attempt to address concerns of local businesses over railroad freight costs. The Chamber reorganized in 1871 to serve the business community and promote commerce. It was responsible for the 1895 Cotton States and International Exposition that showcased Atlanta as a regional business center. In the early twentieth century, the Chamber raised $1.5 million for infrastructure, Grady Hospital, and public schools. The Chamber helped guide Atlanta during the Civil Rights era as the first Georgia business organization to support public school desegregation. Later in the twentieth century, the Chamber campaigned to recruit businesses and improve transportation by advocating for the construction of the Metropolitan Atlanta Rapid Transit Authority (MARTA). Today, the Metro Atlanta Chamber continues to drive the region's reputation as a global competitor.
Erected by the Georgia Historical Society and the Metro Atlanta Chamber