Hidden Histories Online Exhibit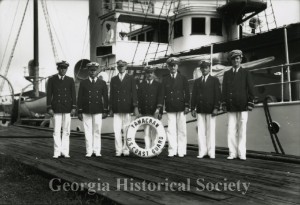 The Georgia Historical Society has administered the Historical Marker Program since 1998.  One of our goals has been to expand Georgia's history as told through historical markers.  Online technology has allowed GHS to provide marker-based driving trails and smartphone apps to wider audiences, but we still wanted a way to enhance marker information beyond the 130 word marker-text.  We also wanted to highlight materials (photographs, maps, artwork, etc.) from the GHS archival collection connected to the subjects of existing historical markers.
"Hidden Histories" is a collaborative project between the Savannah College of Art and Design and the Georgia Historical Society.  Beginning in the spring of 2014, Professor Holly Goldstein's art history students worked to update and expand information about roadside historical markers.  Students used historic and contemporary photographs, artwork, maps, and literary resources to create their own original works related to marker subjects.  "Hidden Histories" provides audiences with an in-depth look into the stories behind certain historical markers.  It also displays relevant GHS archival material.  The information provided by "Hidden Histories" is intended to improve users' interaction with historical markers and encourage them to explore Georgia's historic sites.
To search for Georgia historical markers and create your marker-based driving trail, click here.
---