George Whitefield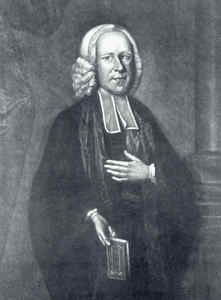 Reverend George Whitefield (1714-1770), printed in London for John Royall, n.d.
1361PH Georgia Historical Society Photograph Collection, Box 25, Folder 17, Item 4930
The evangelical preacher George Whitefield (1714-1770), along with John and Charles Wesley, is largely responsible for leading the spiritual Great Awakening in America and Evangelical Revival in his native England.  Whitefield's preaching and methods were out-of-step with standards of the day, and Whitefield often found himself preaching outdoors rather than inside churches.  Along with his religious fervor, Whitefield had a great sympathy for what he called Georgia's "poor orphans."  He repeatedly petitioned for funds to open an orphanage, an academy, and eventually a college.  In 1740, construction began on the Bethesda Orphan house, with Whitefield providing ₤2,539 to aid in the process.  He returned to England, where he continued raising money for his orphans.
The Wesleys broke with Whitefield in 1741, and in 1749 Whitefield became a chaplain to Selinda, the Countess of Huntingdon, who in turn became the trustee of Bethesda when Whitefield died in 1770.  Bethesda Home for Boys flourishes today as a foster home and a day school, and remains the country's oldest children's home.
---
Suggested Reading
Robert Backhouse, ed., The Journals of George Whitefield (London: Hodder and Stoughton, 1993).
Edward J. Cashin, Beloved Bethesda: A History of George Whitefield's Home for Boys, 1740-2000 (Macon, Ga.: Mercer University Press, 2001).
Marcus L. Loane, Oxford and the Evangelical Succession (London: Lutterworth Press, 1950).
Douglas Macleane, A History of Pembroke College, Oxford (Oxford, Eng.: Clarendon Press, 1897).
John Pollock, George Whitefield and the Great Awakening (Garden City, N.Y.: Doubleday, 1972).
Luke Tyerman, The Life of the Rev. George Whitefield, 2 vols. (London: Hodder and Stoughton, 1876-77).
From the GHS Collection:
Main Collection: Beloved Bethesda : a history of George Whitefield's home for boys, 1740-2000 / by Edward J. Cashin, HV995.S45 C37 2001; Bethesda, an historical sketch of Whitefield's House of Mercy in Georgia, and of the Union Society, his associate and successor in philanthropy. By Thomas Gamble, Jr, HV995.S452 B43; George Whitefield ; the life and times of the great evangelist of the eighteenth-century revival [by] Arnold A. Dallimore, BX9225.W4 D34; "George Whitefield", a lecture, delivered in Savannah, Georgia, on Monday evening, December 16th, 1878, BX9225.W4 H370; George Whitefield, M. A., field preacher. By James Paterson Gledstone., BX9225.W4 G6 1901;
Manuscript: Cheshunt College collection on Bethesda College, 1770-1778, MS 1133; Inventing the "great awakening" / Frank Lambert, BR520 .L35 1999; John Johnson papers, 1770-1792, MS 430; John Wesley and George Whitefield in Scotland; or, The influence of the Oxford Methodists on Scottish religion, by the Rev. D. Butler, BX8495.W5 B8; Journals, BX9225.W4 A215 1960; A letter to His Excellency Governor Wright, HV995.S452 B58 1768; Memoirs of Rev. George Whitefield, BX9225.W4 G45 1972; Memoirs of Rev. George Whitefield, BX9225.W4 G45 1836; Select sermons of George Whitefield, BX9178.W44 S35 1964; A sermon on the death of the Rev. Mr. George Whitefield, preached on Sunday, November 18, 1770, BX9225.W4 W45 1953
Microfilm: Georgia records, 1735-1822, MS 4000
Rare: An account of money received and disbursed for the orphan-house in Georgia / by George Whitefield ; to which is prefixed a plan for the building, F289 .W44 1741; An apology in behalf of the Revd Mr. Whitefield : offering a fair solution of certain difficulties, BX9225.W4 F690; The best match : a sermon preached at Cambvslang on Sabbath evening, after the celebration of the sacrament of the Lord's Supper, July 11th, 1742 / by George Whitefield, BX9178.W44 B48 1743; Bethesda : a historical sketch, with incidental recollections of Whitefield and Habersham, its founders, HV995.S452 B48 1860; A brief and general account of the first part of the life of the Reverend Mr. George Whitefield : from his birth to his entering into holy-orders / written by himself, BX9225.W4 W551 1740; The Christian's companion, or Sermons on several subjects : to which are added several prayers / by George Whitefield, BX9178.W44 .C47 1739; A continuation of the Reverend Mr. Whitefield's journal : from his arrival at London, to his departure from thence on his way to Georgia, BX9225.W4 W553 1739; A continuation of the Reverend Mr. Whitefield's journal : from his arrival at Savannah, May 7, BX9225.W4 W558 1741; Directions how to hear sermons : a sermon preached at Christ's Church in Spittlefields, London / by George Whitefield, BX9178.W44 D47 1739; Eighteen sermons / preached by the late Rev. George Whitefield ; taken verbatim in short-hand, and faithfully transcribed by Joseph Gurney ; revised by Andrew Gifford, BX9178.W5 E5 1797; The eternity of hell torments : a sermon preached at Savannah in Georgia / by George Whitefield, BX9178.W44 E83 1738; George Whitefield : a biography, with special reference to his labors in America / compiled by Joseph Belcher, BX9225.W4 B4 1857; The great danger of conformity to the world : a sermon preached on Friday, October 22d, 1742, in the high-church-yard of Glasgow / by George Whitefield, BX9178.W44 G73 1743; An inquiry into the itinerancy and the conduct of the Rev. Mr. George Whitefield, an itinerant preacher, BX9225.W4 H633 1745; A journal of a voyage from London to Savannah in Georgia : in two parts / by George Whitefield, with a short preface, shewing the reasons of its publication, BX9225.W4 W555 1739; A journal of a voyage from London to Savannah in Georgia : in two parts, Part I, from London to Gibraltar, Part II, from Gibraltar to Savannah / by George Whitefield, BX9225.W4 W555 1738; Journal of a voyage from Savannah to Philadelphia, and from Philadelphia to England, MDCCXL [1740] / by William Seward, gent., companion in travel with the Reverend Mr. George Whitefield, E162 .S51; The life of the great preacher, Reverend George Whitefield, "The prince of pulpit orators" : with the secret of his success and specimens of his sermons / by A. S. Billingsley, BX9225.W4 B59 1878; Memoir of Selina, Countess of Huntingdon / compiled from authentic documents by the Rev. Alfred H. New, BX9225.H82 N48 1859; Memoirs of Rev. George Whitefield / By John Gillies, D.D, BX9225.W4 G45 1837; Memoirs of the life and character of the late Rev. George Whitefield, BX9225.W4 G45 1813; Memoirs of the life of the Reverend George Whitefield, M.A. : late chaplain to the Right Honorable the Countess of Huntingdon, BX9225.W4 G45 1798; Remarks on the Reverend Mr. Whitefield's journal : wherein his many inconsistences are pointed out, BX9225.W4 W553 1739; A sermon on the death of the Rev. Mr. George Whitefield, by John Wesley, BX9225.W4 W45 1770; Sermons on various subjects / by George Whitefield, BX9178.W44 .S37 1739; Some remarks on a late pamphlet intitled, The state of religion in New-England, since the Rev. Mr. George Whitefield's arrival there / by George Whitefield, BX9225.W4 W56 1749; Worldly business no plea for the neglect of religion : a sermon preached at the Parish Church of St. Lawrence, Old Jewry, London / by George Whitefield, BX9178.W44 W67 1739