James Wright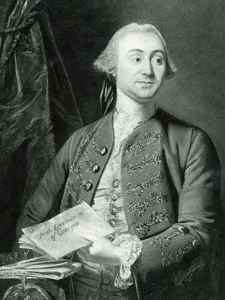 James Wright (1716-1785)
From the GHS Print Collection
Serving as Georgia's third and last royal governor from 1760 to 1782, James Wright (1716-1785) is often regarded as the most popular and competent of the governors.  Though he tried and failed to stop the Revolution from catching fire in Georgia, he was successful in holding it off while other colonies fully embraced the patriots' cause.
Wright was born and educated in England, but eventually purchased plantations and practiced law in South Carolina.  Wright was appointed as the third royal governor when poor health forced Henry Ellis to resign.  Wright dutifully enforced the 1765 Stamp Act, which helped to spark the American Revolution.  In fact, Georgia was the only of the colonies in which stamps were sold.  Wright was powerless to stop the armed rebellion of 1776.
He was captured, but escaped and fled to England on a British warship.  There he petitioned for a full assault on the Georgia colony, an idea fully realized in the invasion of Savannah in 1778.  Despite a brief stint as a royal governor during Savannah's British occupation, Wright eventually returned to England when the British abandoned Savannah in 1782.  Wright died at the age of sixty-nine at his home in Westminster, and is buried in Westminster Abbey.  Wrightsborough is named in his honor.
---
Suggested Reading
W. W. Abbot, The Royal Governors of Georgia, 1754-1775 (Chapel Hill: University of North Carolina Press, 1959).
Kenneth Coleman, The American Revolution in Georgia, 1763-1789 (Athens: University of Georgia Press, 1958).
James F. Cook, The Governors of Georgia, 1754-2004, 3d ed. (Macon, Ga.: Mercer University Press, 2005).
Leslie Hall, Land and Allegiance in Revolutionary Georgia (Athens: University of Georgia Press, 2001).
From the GHS Collection:
Manuscript: James Wright papers, 1772-1784, MS 884; Letters from Sir James Wright, F281 .G35 v.3
Microfilm: Board of Trade and Secretaries of State, America and West Indies, Georgia colony records, 1732-1781, MS 1738