Remembering Robinson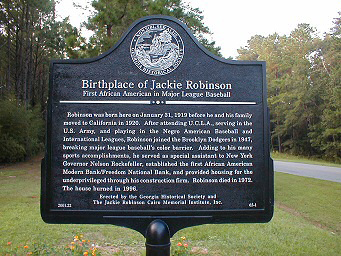 Throughout the sixties, Jackie's influence as a civil rights activist dwindled.  The movement had become more radical by then, and some believed that Jackie had been a puppet of white men such as Branch Rickey and Nelson Rockefeller.  Few of the new generation activists seemed to know of or recognize the way Jackie stood up to the US military, and fewer still took time to reflect on the quiet suffering of a Brooklyn Dodgers rookie.
In October 1972, with diabetes and heart problems, Jackie died of a heart attack at only fifty-three years old.  He was buried in Brooklyn beside his son, Jack Jr.
Now, as in October 1972, we reflect on a life that bore witness to incredible change in the United States.  Of course, he was remembered for his on-field performance.  The Baseball Hall of Fame inducted him in 1962, although the Hall's original plaque made no mention of his role as the first black Major League baseball player (an updated plaque was installed in 2008).
His plaque celebrated the statistics – .311 lifetime batting average, 137 homeruns, 734 RBI's, and 197 stolen bases.  In 1997, baseball commissioner Bud Selig ordered the retirement of Jackie's #42, not only with the Dodgers, but for all teams across the Major Leagues.  Numbers had been retired before, but that was an unprecedented honor in American baseball.  How and where would he be remembered for his contributions to the Civil Rights Movement?  In Grady County, Jackie's birthplace, his legacy lives on and his cousin, Dr. Linda Walden, has become a part of Georgia history as she fights to memorialize her famous relative there.
Through the efforts of Dr. Walden, her Jackie Robinson Memorial Institute, and local supporters, the town of Cairo and Grady County have recognized Robinson in several ways.  A marker stands at the site where Jackie was thought to have been born, the local high school baseball field is now known as Jackie Robinson Field, and a ten-mile stretch of Georgia Highway 93 is named for him.  These memorials did not find universal support, however.  The right to claim Jackie as one of Cairo's own was hotly debated, and Dr. Walden found that racial tension still existed where her cousin was concerned.
Much of the debate centered on the fact that Jackie spent so little time in Cairo.   He was not yet two years old when his mother took the family to California.  Still, many thought that because his family was from the area, and many still live there, and because what Jackie achieved abroad had an impact on the residents of Cairo and Georgia, it seemed a logical place to remember him.  Getting approval for memorials was hard to come by, though.  The Department of Transportation favored a shorter section of road, but with a little extra prodding by Dr. Walden, the ten-mile stretch was approved.
A more intense debate took place over the proposal to erect a statue of Robinson in front of the courthouse.  Opponents thought that remembering athletes was not appropriate there; they preferred the space be reserved for someone who fought for the freedom of the country.  Ultimately the county commission chose a  memorial to Confederate soldiers for the site.  Other extreme opposition came to Dr. Walden's attention.  She was told that if a memorial to Jackie was approved for the courthouse lawn, a group of KKK members planned to protest.  She also received threatening calls.  Although the statue was not approved, Dr. Walden and the Robinson Memorial Institute continued to remain active in remembering Jackie.
---