Sunday, Feb 9, 2014
12:00 pm - 4:00 pm
Sunday, February 9, 2014, 12:00 noon – 4:00 p.m.
Multiple sites throughout Coastal Georgia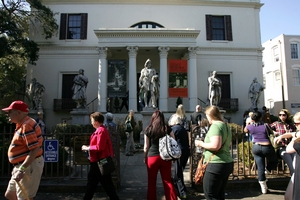 From downtown to the edge of the city, from Statesboro to Darien, over 40 cultural institutions, historic sites, house museums, art museums, and other points of interest in Savannah and coastal Georgia open their doors to the public for this Georgia Historical Society tradition.
Free and open to the public.
Click here to download a map and list of participating sites.
[symple_clear_floats]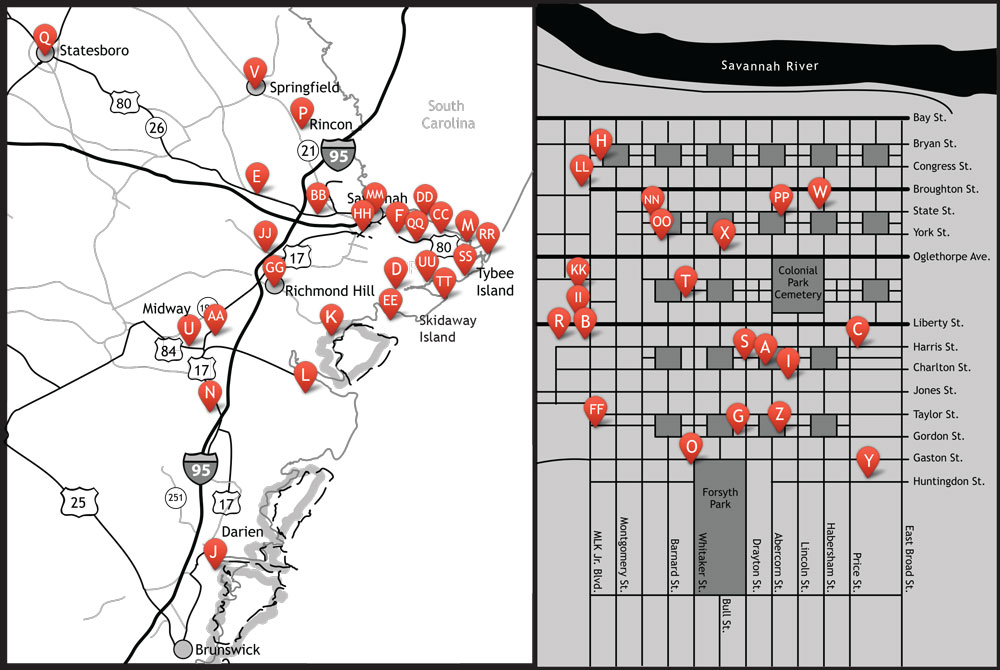 [symple_column size="one-third" position="first"]A. Andrew Low House Museum
329 Abercorn Street, Savannah
912-233-6854
B. Battlefield Memorial Park
303 Martin Luther King, Jr. Blvd., Savannah
912-651-6825
C. Beach Institute African American Cultural Center
502 East Harris Street, Savannah
3:00-6:00 p.m.     |     912-234 8000
D. Bethesda Academy's William H. Ford, Sr.
Museum & Visitors Center
9520 Ferguson Avenue, Savannah
912-401-0663
E. Bloomingdale History Museum and Visitors Center
205 E. Hwy 80, Bloomingdale
912-704-3395
F. Bonaventure Historical Society
330 Bonaventure Road, Thunderbolt
tours 1:00-3:00 p.m.
G. Congregation Mickve Israel
Gordon at Bull Street, Savannah
tours 1:00-4:00 p.m.     |     912-233-1547
H. First African Baptist Church
23 Montgomery Street, Savannah
12:00-3:00 p.m.     |     912-233-2244
I. Flannery O'Connor Childhood Home
207 East Charlton Street, Savannah
1:00 – 4:00 p.m.     |     912-233-6014
J. Fort King George
302 MacIntosh Road, SE, Darien
912-437-4770
K. Fort McAllister Historic Park
3894 Fort McAllister Road, Richmond Hill
912-727-2339
L. Fort Morris Historic Site
2559 Fort Morris Road, Midway
912-884-5999
M. Fort Pulaski National Monument
US Highway 80 E,  Entrance on Queen's Island
9:00 a.m.-5:00 p.m.     |     (912) 786-5787
N. Geechee Kunda
Take Hwy. 17 through Riceboro, left onto Ways Temple Road, Geechee Kunda is on the right 0.2 miles.     |     912-884-4440
O. Georgia Historical Society
501 Whitaker Street, Savannah
912-651-2128
P. Georgia Salzburger Society
2980 Ebenezer Road, Rincon
912-754-7001
[/symple_column][symple_column size="one-third" position="first"]Q. Georgia Southern University Museum
Rosenwald Building, Southern Drive, GSU
2:00-5:00 p.m.     |     912-681-5444
R. Georgia State Railroad Museum
601 W. Harris Street, Savannah
912-651-6823
S. Girl Scout First Headquarters Museum and Program Center
330 Drayton Street, Savannah
888-223-3883
T. Harper Fowlkes House
230 Barnard Street, Savannah
1:00-4:00 p.m.     |     912-234-2180
U. Historical Dorchester Academy
8787 Oglethorpe Highway, Midway
912-884-2347
V. Historic Effingham Society Museum and
Living History Site
1002 Pine Street, Springfield
912-754-2170
W. Isaiah Davenport House Museum
324 East State and Habersham, Savannah
912-236-8097
X. Juliette Gordon Low Birthplace, National Historic Landmark
10 E. Oglethorpe Ave, Savannah
912-233-4501
Y. King Tisdell Cottage
514 E. Huntingdon Street, Savannah
912-234 8000
Z. Massie Heritage Center
207 E. Gordon Street, Savannah
912-201-5070
AA. Midway Museum
491 N. Coastal Hwy, Midway
1:00- 4:00 p.m.     |     912-884-5837
BB. National Museum of the
Mighty Eighth Air Force
175 Bourne Avenue, Pooler
9:00 a.m.- 5:00 p.m.     |     912-748-8888
CC. Oatland Island Wildlife Center
711 Sandtown Road
912-395-1212
DD. Old Fort Jackson
1 Fort Jackson Road, Savannah 31404
912-232-3945
EE. Pin Point Heritage Museum
9924 Pin Point Avenue, Savannah
912-667-9176
FF. Ralph Mark Gilbert Civil Rights Museum
460 Martin Luther King, Jr. Blvd., Savannah
912-231-8900
[/symple_column][symple_column size="one-third" position="last"]GG. Richmond Hill Historical Society
11460 Ford Avenue, Richmond Hill
11:00 a.m. – 4:00 p.m.     |     912-756-3697
HH. Savannah Area Council of Garden Clubs
Botanical Gardens
1388 Eisenhower Drive, Savannah
tours 2:00-4:00 p.m.     |     912-355-3883
II. Savannah History Museum
303 Martin Luther King, Jr. Blvd., Savannah
912-651-6840
JJ. Savannah-Ogeechee Canal Museum &
Nature Center
681 Fort Argyle Road (Route 204) 2.3 miles past I-95     |     9:00-5:00 p.m.     |     912-748-8068
KK. SCAD Museum of Art
601 Turner Blvd., Savannah
912-525-7191
LL. Ships of the Sea Museum
41 Martin Luther King, Jr. Blvd., Savannah
912-232-1511
MM. The Collegiate Church of St. Paul the Apostle
1802 Abercorn St. at 34th Street, Savannah
1:00-4:00 pm     |     912-232-0274
NN. Telfair Academy of Arts and Sciences
121 Barnard Street, Telfair Square, Savannah
912-790-8800
OO. Telfair's Jepson Center for the Arts
207 W. York St., Savannah
912-790-8800
PP. Telfair's Owens-Thomas House
124 Abercorn St., Savannah
912-790-8800
QQ.  Thunderbolt Historical Society
2702 Mechanics Avenue at Victory Drive, Savannah
1:00-4:00 p.m.     |     912-351-0836
RR.  Tybee Island Light Station and Museum
30 Meddin Drive, Tybee Island
912-786-5801
SS.  Tybee Island Marine Science Center
1509 Strand, Tybee Island
912-786-5917
TT. UGA Marine Education Center & Aquarium
30 Ocean Science Circle, Savannah
912-598-2496
UU.  Wormsloe Historic Site
7601 Skidaway Road, Savannah
912-353-3023
[/symple_column]
Sponsored by: