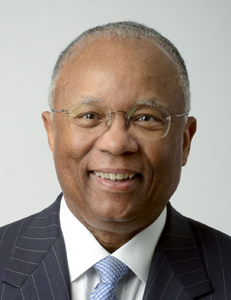 Atlanta, Ga., December 1, 2020 – The Georgia Historical Society announced today the election of Larry D. Thompson, former United States Deputy Attorney General under President George W. Bush and retired Executive Vice President of PepsiCo, to the GHS Board of Curators.
"We are very excited and honored to have a leader of Larry's prominence and caliber joining our board," said Dr. W. Todd Groce, President and CEO of the Georgia Historical Society. "With his vast experience in both government and the private sector, his wisdom and guidance will be invaluable as we continue to teach history and promote research not only across the state, but increasingly on a national level."
Thompson holds a Bachelor of Arts degree from Culver-Stockton College, a Master's degree from Michigan State University, and a Law degree from the University of Michigan. He retired from PepsiCo in 2014, where he served as the company's Executive Vice President, Vice President Government Affairs, General Counsel, and Corporate Secretary. Previously, Mr. Thompson was a partner in the Atlanta law firm of King & Spalding.
Mr. Thompson served from 1982-1986 as the U.S. Attorney for the Northern District of Georgia. In that role, he directed the Southern Organized Crime Drug Enforcement Task Force and served on the Attorney General's Economic Crime Council. He also served as a Senior Fellow with the Brookings Institution in Washington, D.C. Thompson served as U.S. Deputy Attorney General under George W. Bush from 2001 until 2003.
In addition to serving as the Chairman of the Nominating, Governance, and Corporate Responsibility Committee of the Southern Company, Mr. Thompson serves on the Compensation Committee of the Graham Holdings Company (formerly the Washington Post Company), the Board of Franklin Templeton Mutual Series Funds, and the George W. Bush Foundation Board. He is an elected Fellow of the American Board of Criminal Lawyers and has served as a Trustee on the Chautauqua Institute Board since 2014. In 2016, Mr. Thompson was named Chairman of the Board of Directors of the Ethics Research Center (ERC), the research arm of the Ethics & Compliance Initiative (ECI). In 2017, Mr. Thompson was appointed by the U.S. Department of Justice as the Independent Corporate Compliance Monitor and Auditor for Volkswagen AG. Mr. Thompson serves as Counsel to the Atlanta law firm of Finch McCranie, LLP.
Thompson joins John Morgan of Morgan Timber, LLC, a private timberland and real estate management and development company, who was elected to the GHS Board in July of this year. The Board of Curators is led by Chairman Thomas M. Holder (Atlanta), Vice-Chairman A. D. "Pete" Correll (Atlanta), Secretary Doug Hertz (Atlanta), and Treasurer H. Jerome Russell, Jr. (Atlanta).
For more information on the Georgia Historical Society Board of Curators please contact Patricia Meagher at 912.651.2125, ext. 153 or by email at pmeagher@GeorgiaHistory.com. A full list of members of the GHS Board of Curators can be found at GeorgiaHistory.com.
###
ABOUT GEORGIA HISTORICAL SOCIETY
Georgia Historical Society (GHS) is the premier independent statewide institution responsible for collecting, examining, and teaching Georgia history. GHS houses the oldest and most distinguished collection of materials related exclusively to Georgia history in the nation.
To learn more visit georgiahistory.com.