Georgia Historical Society Announces 175th Anniversary Logo
Savannah, Ga., March 20, 2014 – The Georgia Historical Society today unveiled a new logo that will be used for organizational branding from now until the end of April, 2015, to commemorate the 175th anniversary of the founding of the Society.
"One of the first acts by the founders of the Georgia Historical Society in May, 1839 was the adoption of a seal that would embody the mission of GHS," said Dr. W. Todd Groce, President and CEO of the Georgia Historical Society.  "They chose the gold seal and motto of the original Trustees, Non Sibi Sed Aliis – Not for Self, But for Others.   As we prepare to mark this anniversary with the 175th Annual meeting of the Board of Curators and Membership of the Georgia Historical Society, it is fitting that we too commemorate this milestone in our history by branding GHS publications and educational materials in a way that will be recognizable not only this year but for generations to come."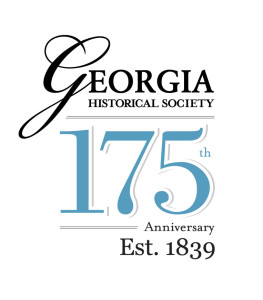 The logo, designed by Left Brain Right in Savannah, GA, is consistent with GHS's current branding. It utilizes GHS signature color––steel blue––symbolizing strength and trust. The fonts are traditional with an updated twist which parallels GHS President Dr. Groce's personal motto, "to study the past while creating a better future."  The shape suggests stability and balance with the lines representing tiers of learning, growth, and community.
The Georgia Historical Society will officially kick off the 175th Anniversary Year on April 30, 2014 with the Annual Meeting and Garden Party.  Details for that event can be found on the GHS website at www.georgiahistory.com
###
---
SAVANNAH: 501 Whitaker St., Savannah, GA 31401
ATLANTA: 260 14th St., NW, Ste. A-148, Atlanta, GA 30318
Georgia Historical Society (GHS) is the premier independent statewide institution responsible for collecting, examining and teaching Georgia history. GHS houses the oldest and most distinguished collection of materials related exclusively to Georgia history in the nation.