Savannah, Ga., Thursday, October 5, 2017 – The Georgia Historical Society announced today that Ed Bastian, CEO of Delta Air Lines, and Paul Bowers, Chairman, President, and CEO of Georgia Power, have been selected as the newest Georgia Trustees. Bastian and Bowers will be inducted by Governor Nathan Deal and the Georgia Historical Society on February 17, 2018. This is the highest honor the State of Georgia can bestow.
"Ed Bastian and Paul Bowers exemplify in their lives and careers the highest standard of 'Not for Self, but for Others' set by the founding Trustees of Georgia," said Dr. W. Todd Groce, President and CEO of the Georgia Historical Society. "The impact of their remarkable leadership is felt daily not only here in Georgia but around the world, and we are honored that they will be inducted by Governor Deal as the newest Georgia Trustees."
Ed Bastian joined Delta Air Lines in 1998 and was appointed President in 2007 and CEO in 2016. His responsibility is to champion the company's employee-driven, customer-focused culture and inspire the spirit of innovation that is the foundation of Delta's success. He is involved in a number of philanthropic organizations including the Atlanta Committee for Progress, the Metro Atlanta Chamber of Commerce, the Woodruff Arts Center, and the global fight against human trafficking, for which he has partnered with leading organizations to provide training for Delta employees to identify instances of trafficking and give them the resources to combat it.
Prior to assuming his current role in 2011, Paul Bowers served as Chief Financial Officer of Southern Company from 2008 to 2010. Previously, he served in various senior executive leadership positions across Southern Company in Southern Company Generation, Southern Power, and the company's former U.K. subsidiary, where he was President and CEO of South Western Electricity LLC/Western Power Distribution. He was the 2016 chair of the Atlanta Committee for Progress, a member of the Federal Reserve Bank of Atlanta's Energy Policy Council, the current chair of the Children's Healthcare of Atlanta Foundation, and serves on the Board of Regents of the University System of Georgia as well as multiple other boards throughout the state.
King George II established the original Georgia Trustees in 1732 to found a permanent English colony in America. Led by General James Edward Oglethorpe and driven by their motto Non Sibi, Sed Aliis, "Not for Self, but for Others," they founded the Georgia Colony on February 12, 1733, and named it in honor of the King. In 2008 the Georgia Historical Society in conjunction with the Office of the Governor reconstituted the Georgia Trustees as a way to honor modern-day Georgians whose lives and history-making accomplishments best reflect the motto of the original Trustees.
The induction of Bastian and Bowers by Governor Nathan Deal will take place Saturday, February 17, 2018, at the Georgia Historical Society's Trustees Gala, "A Royal Intent", in Savannah. The Trustees Gala is the Georgia Historical Society's premiere annual event and the culmination of the Georgia History Festival. Each year this elegant and much-anticipated evening draws top local, state, and national leaders to honor and pay tribute to the best the State of Georgia has produced.
The 2018 Georgia History Festival is chaired by Mr. Robert S. Jepson, Jr. with Co-Chairs Mr. Walter M. "Sonny" Deriso, Jr., Mrs. Katheryn Levitt, and Ms. Swann Seiler.
Previous Georgia Trustees are:
2017: A.D. "Pete" Correll, Retired CEO, Georgia-Pacific and F. Duane Ackerman, Retired Chairman of the Board and CEO, BellSouth
2016: James H. Blanchard, Retired Chairman of the Board and CEO, Synovus and Muhtar Kent, Chairman of the Board and Chief Executive Officer, The Coca-Cola Company
2015:  Alana Smith Shepherd, co-founder of the Shepherd Center and Paula S. Wallace, President and co-founder of the Savannah College of Art and Design
2014:  Arthur M. Blank, owner & Chairman of the Atlanta Falcons and William Porter "Billy" Payne, Chairman of the Augusta National Golf Club, Chairman of Centennial Holding Company, LLC
2013: Truett Cathy, founder of Chick-fil-A and Herman Russell, founder of H.J. Russell & Company
2012: Tom Cousins, Atlanta real estate developer and sports franchise mogul and Andrew Young, former UN Ambassador and Mayor of Atlanta
2011: Vincent J. Dooley, Legendary UGA Football Coach and Samuel A. Nunn, Jr., Former U.S. Senator
2010: Hank Aaron, Baseball Legend and Ted Turner, CNN founder and Chairman of Turner Enterprises, Inc.
2009: Bernard Marcus, Home Depot founder and Marguerite Neel Williams (honored posthumously), Entrepreneur
###
2018 GEORGIA HISTORY FESTIVAL SPONSORS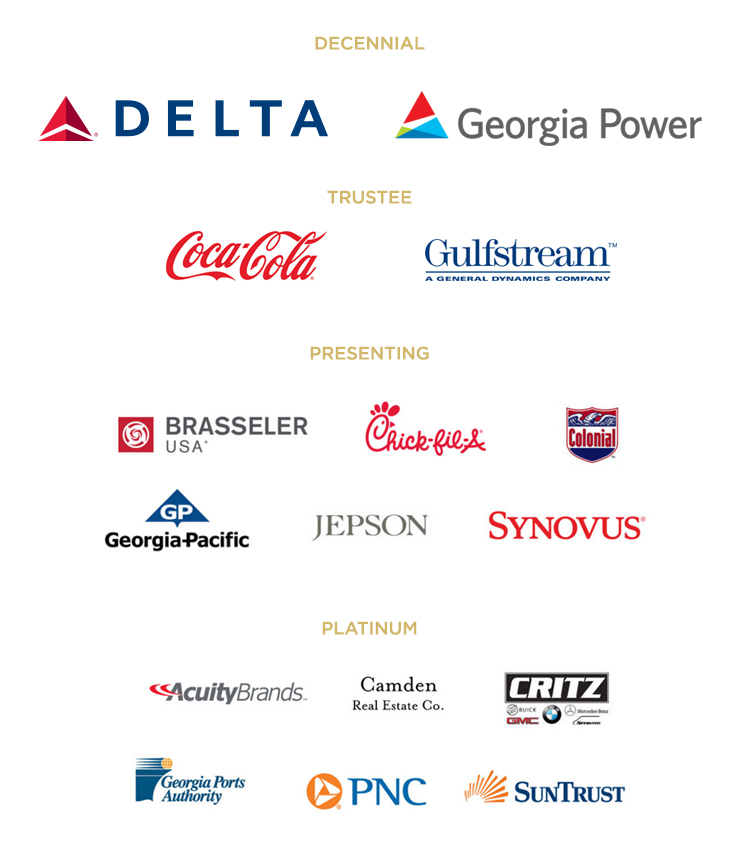 View the full list of Georgia History Festival sponsors.
ABOUT GEORGIA HISTORICAL SOCIETY
Georgia Historical Society (GHS) is the premier independent statewide institution responsible for collecting, examining, and teaching Georgia history. GHS houses the oldest and most distinguished collection of materials related exclusively to Georgia history in the nation.
To learn more visit georgiahistory.com.