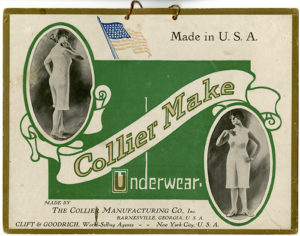 Atlanta, June 21, 2018 – The Georgia Historical Society (GHS) is pleased to announce that the Collier Family Papers (MS 2665) are now available to researchers at the GHS Research Center in Savannah. The collection contains the papers, records, photographs, and correspondence of the Collier family of Barnesville, Georgia, particularly Jena Cuthbert "J.C." Collier (1866-1944) and his son Durward Cuthbert "D. C." Collier (1890-1979). The collection was donated to GHS by Glen A. Collier, on behalf of the estate of Virginia Collier Dennis, the late daughter of D.C. Collier.
The Collier family was active in agriculture, textile manufacturing, and the politics of the Piedmont area of Georgia during the late nineteenth and early twentieth centuries. J.C. Collier was born in Pike County, Georgia, to Isaac C. and Sarah E. Collier. In 1881 he left his father's Piedmont, GA plantation to attend the Gordon Military Institute in Barnesville. After graduation he began work at C.C. Holmes Dry Goods, eventually opening his own store, J.C. Collier & Co. J.C. Collier would go on to serve as Mayor of Barnesville and as a Georgia State Senator for the 2nd district from 1925-1927. He remained an active figure in Georgia politics.
D.C. Collier graduated from Georgia Tech with a degree in textile engineering and joined his father's manufacturing business. In the 1940s he worked for the United States Quartermaster. Like his father he was also active in politics though he never held public office.
Materials within the Collier collection cover the period from approximately 1910 through the 1930s and contain both personal and business correspondence, including J.C. Collier's opinions on the New Deal and discussions with prominent political figures of the time. There are also records of a lawsuit against the United States government over the cancellation of a World War I government contract that took decades to resolve.
The collection consists of 125 boxes, two rolls, including an architectural drawing of a dry goods store, and 87 volumes, including journals, ledgers, and daybooks. Materials will be of particular interest to researchers interested in the Great Depression, the textile industry, Georgia land management, and the politics of the 1920s and 1930s.
For more information about the Collier Family Papers and others collections at the Georgia Historical Society, please visit GeorgiaHistory.com or contact Patricia Meagher at (404.382.5410) or by email at pmeagher@GeorgiaHistory.com.
###