Historical marker in downtown Savannah highlights company's role in the economic growth of Georgia in the 20th and 21st centuries.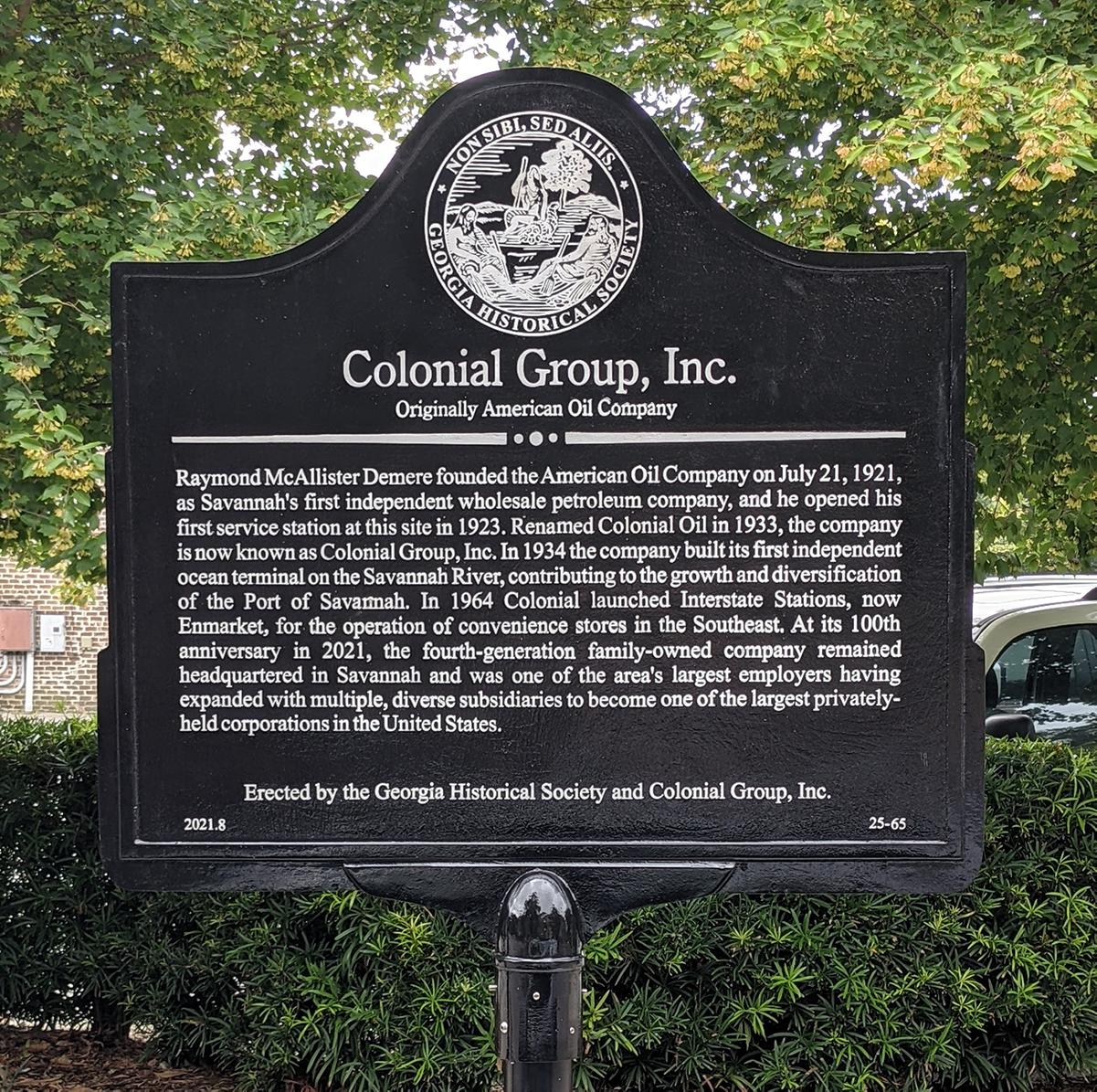 July 21, 2021, Savannah, Georgia – The Georgia Historical Society (GHS) recognized Colonial Group, Inc. as the latest honoree in the Georgia Business History Initiative with the dedication of a new historical marker in downtown Savannah. The marker recognizes the 100th anniversary of the company's founding by Raymond Demere in 1921.
"The Georgia Historical Society is pleased to recognize this iconic Georgia-based company and the lasting impact it has had on our state and nation since 1921," said Dr. W. Todd Groce, President and CEO of the Georgia Historical Society. "Colonial Group's sustained, century-long growth is testament to what can happen when you have all the right ingredients for success—great products, excellent succession planning, outstanding intergenerational leadership, and entrepreneurial vision. I am particularly excited about the classroom resources we have developed to tell the Colonial Group story to Georgia students."
Each year the Georgia Historical Society selects iconic companies in our state to be honored through the Georgia Business History Initiative. By showcasing these companies, GHS seeks to teach Georgia students, citizens, and tourists alike about the pivotal role of Georgia's leading businesses in the economic, cultural, and social development of Georgia and the United States.
Speakers for the dedication included The Honorable Ben Watson, Georgia State Senator for District 1, who sponsored a Georgia Senate Resolution recognizing Colonial Group, Inc. for having grown from its "humble beginnings in July 1921 to become one of the leading businesses in the state;" and The Honorable Van Johnson, Mayor of Savannah who proclaimed July 21, 2021, as Colonial Group Day in Savannah. Mr. Christian Demere, President and CEO of Colonial Group, Inc., brought remarks while Robert H. Demere, Jr., Chairman of Colonial Group, closed the dedication. The marker text was read by Ms. Brynn Grant, President and CEO, United Way of the Coastal Empire and Dr. Groce served as Master of Ceremonies.
"When my great grandfather, Raymond McAllister Demere, returned to Savannah after serving in World War I, he saw the popularity of the automobile increasing along with the demand for automotive fuel," said Christian Demere. "He purchased a 55-gallon barrel of oil and founded Savannah's first independent wholesale petroleum company on July 21, 1921. Two years later he opened his first service station in Savannah and from there, what would become Colonial Group's diverse family of companies was born out of the growing demand for petroleum products and the evolution that ensued."
In addition to the new historical marker, the Georgia Historical Society has compiled a case study and company profile about Colonial outlining the history of the company. This educational resource for Georgia middle school students will be available to educators beginning with the fall 2021 school year. Through these educational resources, students can learn about Colonial Group, Inc. and its role in Georgia and American history for generations to come.
The marker is located at the site of the company's first filling station at 342 Drayton Street in Savannah.
For more information about the Colonial Group Inc. historical marker dedication or the Georgia Business History Initiative contact Patricia Meagher, Director of Communications at the Georgia Historical Society at 912.651.2125, ext. 153 or by email at pmeagher@georgiahistory.com.
The marker reads:
Colonial Group, Inc.
Originally American Oil Company
Raymond McAllister Demere founded the American Oil Company on July 21, 1921, as Savannah's first independent wholesale petroleum company, and he opened his first service station at this site in 1923. Renamed Colonial Oil in 1933, the company is now known as Colonial Group, Inc. In 1934 the company built its first independent ocean terminal on the Savannah River, contributing to the growth and diversification of the Port of Savannah. In 1964 Colonial launched Interstate Stations, now Enmarket, for the operation of convenience stores in the Southeast. At its 100th anniversary in 2021, the fourth-generation family-owned company remained headquartered in Savannah and was one of the area's largest employers having expanded with multiple, diverse subsidiaries to become one of the largest privately-held corporations in the United States.
###
ABOUT THE GEORGIA HISTORICAL SOCIETY
Georgia Historical Society (GHS) is the premier independent statewide institution responsible for collecting, examining, and teaching Georgia history. GHS houses the oldest and most distinguished collection of materials related exclusively to Georgia history in the nation.
To learn more visit georgiahistory.com.
---
ABOUT THE GEORGIA HISTORICAL MARKER PROGRAM
The Georgia Historical Society (GHS) administers Georgia's historical marker program. Over the past 20 years, GHS has erected nearly 300 new historical markers across the state on a wide variety of subjects. GHS also coordinates the maintenance for more than 2,100 markers installed by the State of Georgia prior to 1998. Online mapping tools allow users to design driving routes based on historical markers, and a mobile app helps visitors locate and learn about markers nearby. Visit georgiahistory.com for more ways to use Georgia's historical markers and experience history where it happened.
---
ABOUT COLONIAL GROUP INC.
A fourth generation family-owned business founded in 1921, Colonial Group Inc. ("Colonial Group") is a diversified energy and port-related company headquartered in Savannah and one of America's largest privately-held companies. In 2021, the company marks its 100th anniversary by celebrating with its dedicated team of more than 2,000 employees, giving to hometown causes and observing historical milestones. Over the years, the business has diversified to be the umbrella company of Colonial Oil, Colonial Terminals, Colonial Fuel & Lubricant Services, Enmark Stations/Enmarket, Colonial Compliance Systems, Colonial Energy, Colonial Chemical Solutions, Colonial Towing, Savannah Yacht Center and Aqua Smart. For more information on Colonial Group Inc., please visit www.colonialgroupinc.com.