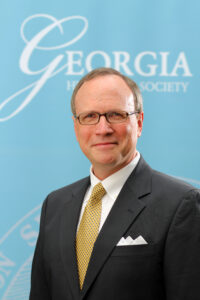 SAVANNAH, GA, March 23, 2022 – Georgia Historical Society (GHS) President and CEO Dr. W. Todd Groce was recognized as one of the most influential Georgians by James Magazine in the publication's March/April 2022 edition. The list includes Georgia's most accomplished leaders in business, politics, education, law, and the media.
"I am honored to be included in James Magazine's 'Most Influential Georgians' list," said Groce. "More than anything, this recognition is a testament to GHS's growing reputation and influence as a nationally-recognized educational and research institution."
This is the fifth straight year that Groce has appeared on the list.
"Todd is very deserving of this honor," said Thomas M. Holder, Chairman of the GHS Board of Curators and Chairman of Holder Construction Company. "As one of the leading public history executives in the nation, Todd has expanded GHS's educational programs, collections, campus, and endowment under his leadership. The Georgia Historical Society has never been in a better position to fulfill its mission."
This year's "Most Influential" list also recognized several Georgia Trustees, including Ed Bastian, Arthur Blank, Bernie Marcus, Alana Shephard, and Andrew Young. The Georgia Trustees is the highest honor the state can confer. In conjunction with the Governor's Office, the Georgia Historical Society reestablished the Georgia Trustees in 2008 to recognize Georgians whose accomplishments and community service reflect the noble principle of Non Sibi, Sed Aliis, "Not for Self, but for Others." Chris Womack, a member of the GHS Board of Curators, is also on the list.
Groce holds three degrees in history, including a Ph.D. from the University of Tennessee and a certificate in leadership development from the U.S. Army War College. He is the author and editor of two books on the Civil War era and has written over 100 articles and book reviews on topics including the myth of the Lost Cause, Sherman's March, and the link between slavery and secession for publications such as the Journal of Southern History and the New York Times. He frequently lectures on leadership, the Civil War and Reconstruction, and the history of the South. He has made television appearances on the History Channel, Discovery Channel, CSPAN, and the BBC.
For more information, contact Keith Strigaro, Director of Communications, at 912.651.2125, ext. 153, or by email at kstrigaro@georgiahistory.com.
###
ABOUT THE GEORGIA HISTORICAL SOCIETY
Georgia Historical Society (GHS) is the premier independent statewide institution responsible for collecting, examining, and teaching Georgia history. GHS houses the oldest and most distinguished collection of materials related exclusively to Georgia history in the nation.
To learn more visit georgiahistory.com.