Year Erected: 2019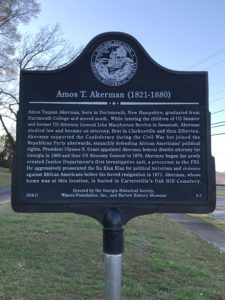 Marker Text:  Amos Tappan Akerman, born in Portsmouth, New Hampshire, graduated from Dartmouth College and moved south.  While Tutoring the children of U.S. Senator and former U.S. Attorney General John Macpherson Berrien in Savannah, Akerman studied law and became an attorney, first in Clarkesville and then Elberton.  Akerman supported the Confederacy during the Civil War but joined the Republican Party afterwards, staunchly defending African Americans' political rights.  President Ulysses S. Grant appointed Akerman federal district attorney for Georgia in 1869 and then U.S. Attorney General in 1870.  Akerman began the newly created Justice Department's first investigative unit, a precursor to the F.B.I.. He aggressively prosecuted the Ku Klux Klan for political terrorism and violence against African Americans before his forced resignation in 1871.  Akerman, whose home was at this location, is buried in Cartersville's Oak Hill Cemetery.
Erected by the Georgia Historical Society, Waters Foundation, Inc., and Bartow History Museum.
Tips for Finding This Marker: Located on GA Hwy 293/Tennessee St. in front of Archer & Lovell PC.
---
View the Amos T. Akerman historical marker dedication: