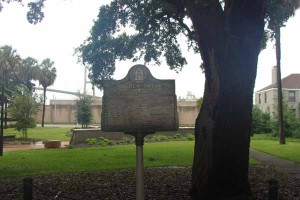 Year Erected: 1980
Marker Text: Andrew Bryan was born at Goose Creek, S.C. about 1716. He came to Savannah as a slave and here he was baptized by the Negro missionary, the Reverend George Leile, in 1781. Leile evacuated with the British in 1782 at the close of the American Revolution and Bryan took up his work. He preached at Yamacraw and Brampton Plantation. On January 20, 1788, the Reverend Abraham Marshall (White) and the Reverend Jessie Peter (Colored) ordained Andrew Bryan and certified the congregation at a Brampton barn as the Ethiopian Church of Jesus Christ.
The Reverend Bryan moved from place to place with his congregation and was even imprisoned and whipped for preaching during a time when whites feared any slave gathering as a focus for rebellion. He persevered and finally bought his and his family's freedom and purchased this lot for his Church. Andrew Bryan pastored until his death, October 6, 1812. He is buried in Savannah's Laurel Grove Cemetery.
Tips for Finding This Marker: North of West Bryan Street between Ann Street and Fahm Street in Savannah.