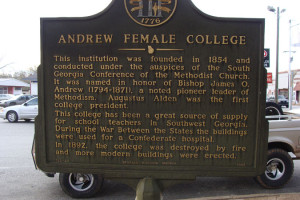 Year Erected: 1983
Marker Text: This institution was founded in 1854 and conducted under the auspices of the South Georgia Conference of the Methodist Church. It was named for Bishop James E. Andrew (1794-1871), a noted pioneer leader of Methodism. Augustus Alden was the first college president.
This college has been a great source of supply for school teachers in Southwest Georgia. During the War Between the States the buildings were used for a Confederate hospital.
In 1892, the college was destroyed by fire and more modern buildings were erected.
Tips for Finding This Marker: On Plum Street in downtown Cuthbert.