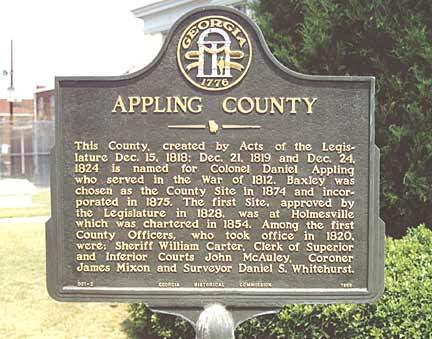 Year Erected: 1955
Marker Text: This County, created by Acts of the Legislature Dec. 15, 1818; Dec. 21, 1819 and Dec. 24, 1824 is named for Colonel Daniel Appling who served in the War of 1812. Baxley was chosen as the County Site in 1874 and incorporated in 1875. The first Site, approved by the Legislature in 1828, was at Holmesville which was chartered in 1854. Among the first County Officers, who took office in 1820, were: Sheriff William Carter, Clerk of Superior and Inferior Courts John McAuley, Coroner James Mixon and Surveyor Daniel S. Whitehurst.
*This marker is missing.
Tips for Finding This Marker: At the county courthouse in Baxley.