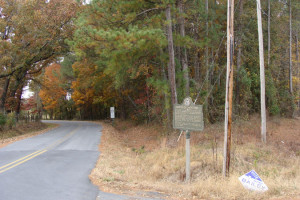 Year Erected: 1953
Marker Text: May 14, 1864. A contingent from Sweeny's (2d) div., 16th A.C. [US] made a crossing here in pontoon boats, but on a rumor of Confederate crossings upstream, it withdrew.
May 15. The division, supported by Welker's Artillery [US], crossed in force & deployed to meet the immediate attack by Maj. Gen. W.H.T. Walker's div., Hardee's A.C. [CS], in the area between the George W. Frix house & the Oostanaula River.
This Federal move on the Confederate left & rear forced Johnston [CS] to evacuate his lines at Resaca.
Tips for Finding This Marker: At the intersection of Herrington Bend and Hunt Roads in Calhoun