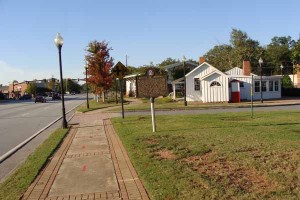 Year Erected: 1954

Marker Text: July 3, 1864. Gen. J. E. Johnston's army [CS] withdrew from Kennesaw Mtn. & occupied a double line of field-works which crossed the R. R. at old Smyrna Camp Ground, facing N. W. Loring's A. C. was on the rt. (N. E. of R. R.); Hardee's, at center; Hood's on left, near Ruff's Mill, Nickajack Cr.

July 4. The 4th A. C. [US], (E. of R. R.), attacked the Confederate right to ascertain strength of the position; it was found impregnable. A similar attack on the left near Ruff's Mill was alike ineffective. Being outflanked, Johnston withdrew to his River Line that night.

July 6. The 23d A. C. [US], moving from Ruff's Mill to Soap Creek, camped just E. of the R. R.

Tips for Finding This Marker: At Smyrna Museum, on Atlanta Road in Smyrna.