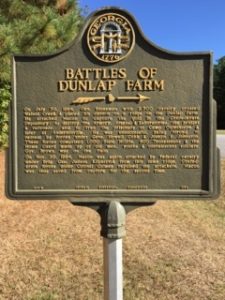 Year Erected: 1954
Marker Text: On July 30, 1864, Gen. Stoneman with 2,500 cavalry crossed Walnut Creek & placed his cannon on a ridge on the Dunlap farm. He attacked Macon to capture the gold in the Confederate Depository; to destroy the Armory, Arsenal & Laboratories, the bridges & railroads; and to free the prisoners at Camp Oglethorpe & later at Andersonville. He was unsuccessful, being forced to retreat by forces under Gens. Howell Cobb and Joseph E. Johnston. These forces comprised 1,000 State Militia, 600 Tennesseans, & the Home guard made up of old men, youths & convalescent soldiers. Gov. Brown was on the field.
On Nov. 20, 1864 Macon was again attacked by Federal cavalry under Brig. Gen. Judson Kilpatrick from this same ridge. Confederate forces Colonel Colmes repulsed the attackers. Macon was thus saved from capture the second time.
Tips for Finding This Marker: Across from the Dunlap House, on US 80, just west of Trinity Place in Macon.