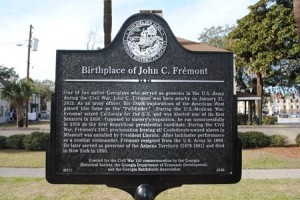 Year Erected: 2013
Marker Text: One of two native Georgians who served as generals in the U.S. Army during the Civil War, John C. Frémont was born nearby on January 21, 1813. As an army officer, his 1840s explorations of the American West gained him fame as the "Pathfinder."  During the U.S.-Mexican War, Frémont seized California for the U.S. and was elected one of its first Senators in 1850.  Opposed to slavery's expansion, he ran unsuccessfully in 1856 as the first Republican presidential candidate. During the Civil War, Frémont's 1861 proclamation freeing all Confederate-owned slaves in Missouri was annulled by President Lincoln.  After lackluster performance as a combat commander, Frémont resigned from the U.S. Army in 1864.  He later served as governor of the Arizona Territory (1878-1881) and died in New York in 1890.
Erected for the Civil War 150 commemoration by the Georgia Historical Society, the Georgia Department of Economic Development, and the Georgia Battlefields Association
Tips for Finding This Marker: The marker is located in Yamacraw Park across from First Bryan Baptist Church (575 West Bryan Street).