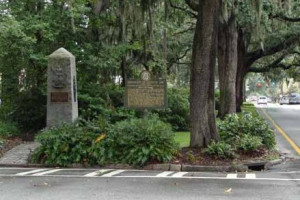 Year Erected: 1955
Marker Text: In the house that stands opposite this marker Juliette Gordon Low, Founder of the Girl Scouts of the United States of America, was born, October 31, 1860. It was her girlhood home until her marriage there in 1886 to William Low, an Englishman, then residing in Savannah.
As a friend of Lord Baden-Powell, founder of the Scout Movement, Juliette Low became active in Girl Guide work in England and Scotland in 1911. It was at his suggestion that she began Girl Scouting in America.
On March 12, 1912, at the Louisa Porter Home in this city, Mrs. Low founded the first Girl Guide troop in the United States. Her niece, Daisy Gordon, of Savannah, was the first member enrolled. Through Mrs. Low's energetic and determined leadership the movement spread rapidly under the name "Girl Scouts."
Mrs. Low died in Savannah, January 17, 1927. In 1953 her birthplace was acquired by the Girl Scouts of the United States of America, and funds for its restoration were raised by the 2,500,000 members. The property is now maintained by the Girl Scouts as a memorial to their Founder and as a center of activities for all Girl Scouts.
Tips for Finding This Marker: At the intersection of Bull Street and Oglethorpe Avenue in Savannah