Year Erected: 1954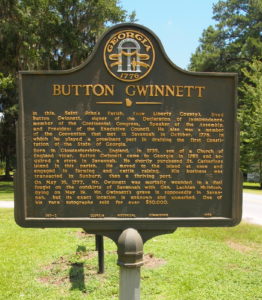 Marker Text: In this, Saint John's Parish, (now Liberty County), lived Button Gwinnett, signer of the Declaration of Independence, member of the Continental Congress, Speaker of the Assembly, and President of the Executive Council. He also was a member of the Convention that met in Savannah in October, 1776, in which he played a prominent part in drafting the first Constitution of the State of Georgia.
Born in Gloucestershire, England, in 1735, son of a Church of England vicar, Button Gwinnett came to Georgia in 1765 and acquired a store in Savannah. He shortly purchased St. Catherines Island in this parish. He moved to the island at once and engaged in farming and cattle raising. His business was transacted in Sunbury, then a thriving port.
On May 16, 1777, Mr. Gwinnett was mortally wounded in a duel fought on the outskirts of Savannah with Gen. Lachlan McIntosh, dying on May 19. Mr. Gwinnett's grave is supposedly in Savannah, but its exact location is unknown and unmarked. One of his rare autographs sold for over $50,000.
Tips for Finding This Marker: At the intersection of US 17 and Martin Road in Midway