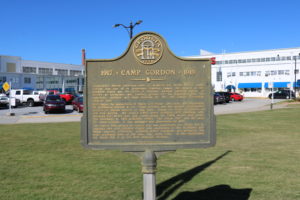 Year Erected: 1988
Marker Text:  Constructed during America´s rush to mobilize for World War I, Camp Gordon was one of 16 temporary training camps, the largest in the southern states and the focus of Atlanta's wartime patriotic spirit. It served as birthplace and training ground for the legendary 82D "All American" division and base hospital No. 43, the Emory University Medical Unit.
Built under the supervision of Major J.N. Pease, QM Corps, and engineered by Lockwood-Greene & Co., Camp Gordon was the largest construction project in Atlanta history to that time. Ready for troop occupancy in just five months, the camp´s 2,400 acres included 1,635 buildings with barracks for 46,612 men and corral space for 7,688 horses and mules. The November 11, 1918 armistice ended "The Great War" and the need for Camp Gordon. It was salvaged and abandoned by 1921.
The Emory Unit served in France and was reactivated for World War II. Atlanta´s own 82D Division fought with distinction in the St. Mihiel and Meuse-Argonne offensives, suffered 8,077 casualties and produced the most decorated hero of the war, Sgt. Alvin York. It was reactivated for World War II as the 82D Airborne Division.
Tips for Finding This Marker: On Airport Drive 0.6 miles east of Clairmont Road (Georgia Route 155), on the right in Chamblee.