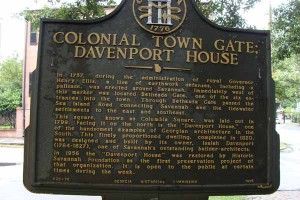 Year Erected: 1959
Marker Text: In 1757, during the administration of royal Governor Henry Ellis, a line of earthwork defenses, including a palisade, was erected around Savannah. Immediately west of this marker was located Bethesda Gate, one of the six entrances into the town. Through Bethesda Gate passed the Sea Island Road connecting Savannah and the tidewater settlements to the east and southeast.
This square, known as Columbia Square, was laid out in 1799. Facing it on the north is the "Davenport House," one of the handsomest examples of Georgian architecture in the South. This finely proportioned dwelling, completed in 1820, was designed and built by its owner, Isaiah Davenport (1784-1827), one of Savannah's outstanding builder-architects.
In 1956 the "Davenport House" was restored by Historic Savannah Foundation as the first preservation project of that organization. It is open to the public at certain times during the week.
Tips for Finding This Marker: On Columbia Square, at the intersection of Habersham and State Streets in Savannah.
To learn more about this marker topic, visit our Hidden Histories online exhibit.