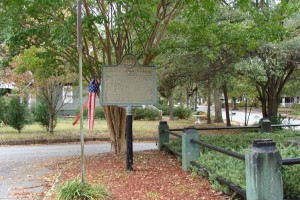 Year Erected: 1956
Marker Text:The monument in the enclosure was erected by U.S. Army Engineers to mark the site where Maj. Gen. James B. McPherson was killed during the Battle of Atlanta, July 22, 1864.
McPherson rode S. from the Ga. R.R. when he heard firing in Sugar Cr. valley, where the rear attack by Walker's & Bate's divs. [CS] fell upon Dodge's 16th A.C. After pausing to observe this part of the battle, he galloped toward the left of the 17th A.C. (Flat Shoals & Glenwood), on a road through the pines.
At this point he was assailed by skirmishers of Cleburne's div.; [CS] refusing to surrender he was shot while attempting to escape.
Tips for Finding This Marker: At the intersection of McPherson and Monument Avenues in Atlanta.